The 'Wayward Adventures' of a Deacon Pastor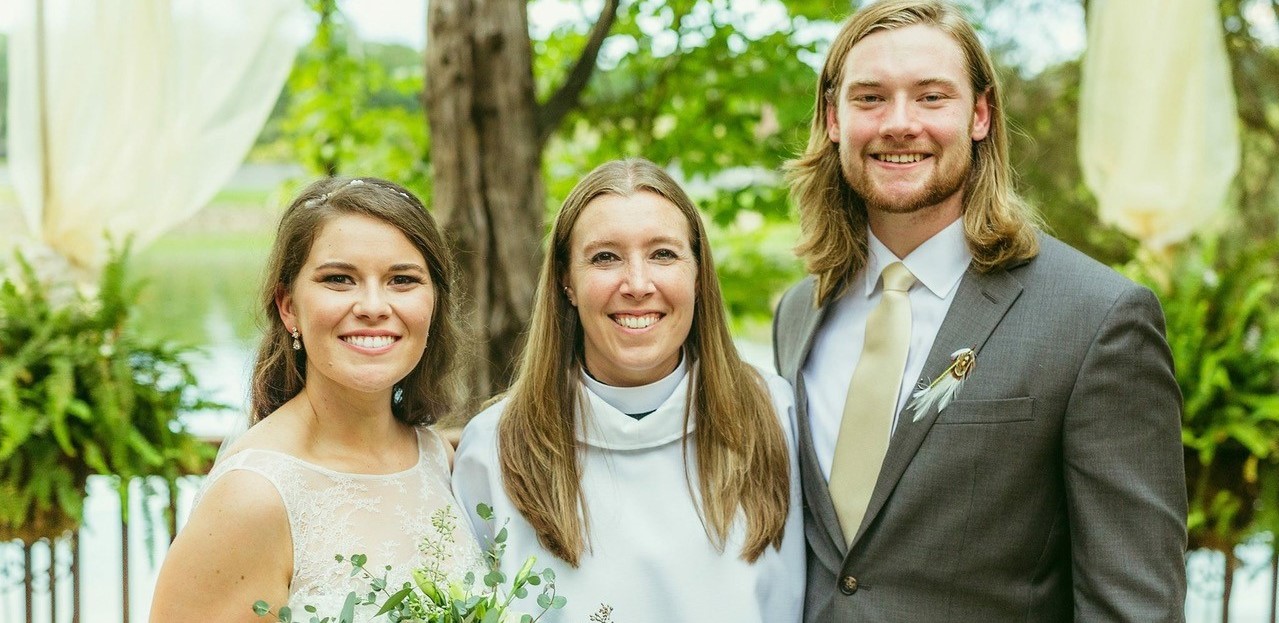 "It was sort of this beautiful thing to come across the diaconate and say, this is a place where I might finally fit."
When asked to describe herself, Rev. Deacon Erin Moniz might use any number of seemingly contradictory terms: hippie, hard-core conservative, feminist, Bible-thumper… calling herself "an anomaly."
But it's no anomaly that her self-proclaimed "wayward adventures" have given her a unique perspective in her role as a deacon and Assistant Chaplain to students at Berry College.
"I've got some rough edges. I don't always say the right things or do the right things. I've been around the bend a couple times, so I don't mind the grittier things of life," she says. "But Christ is everything. He's in the business of restoring what is broken… of redemption and restoration. I get to see that in my work every day in the lives of my students."
As a child, Dcn. Erin grew up in a different tradition. She loved her youth group and remembers feeling a pull at age 11 to full-time ministry, being so impressed with youth ministry. Thinking she would be thrilled, Dcn. Erin shared this with a family member.
"But that's when I was told that women don't do those kinds of things," she said. "It never occurred to me that a woman couldn't serve in the church outside of children's ministry. That was kind of my first encounter with that theology."
It was knowledge that would later impact her decisions and indecisions.
"At the end of the day I didn't want to get it wrong. I didn't want to end up – for my own ends – in a leadership position, simply because I wanted it, or I wanted to prove something. It was just going to take a little longer for me to work through some of those doubts."
As a young adult, leadership problems at her church soured her on "church people" for many years, but after a teenage period of disillusionment Dcn. Erin ended up back in the church and a student at Berry College, earning a BS in Sociology and Anthropology, minoring in Religion. She stayed involved in youth ministry in a volunteer capacity whenever she could, but admittedly still had no idea what to do with her life.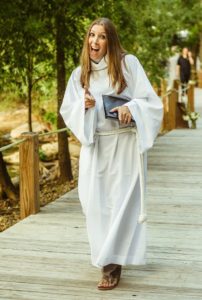 "I have all the wrong gifts. I can't cook, kids don't get my jokes," she says. "I talk, I teach, I have leadership skills."
"This is going to get me in trouble in the church," she thought, "because where am I going to flex these gifts except in places that I'm probably not wanted? And for a while I decided to be okay with that… I was sort of at home with my gifts."
Dcn. Erin had some songwriting experience and was trained on cello, mandolin, lap dulcimer, and guitar. So with an air of 'no time like the present,' she and a friend formed a folk band, traveling and touring up and down the East Coast from their home base outside Atlanta.
"She can sing like an angel; we had kind of a funky, folky sound. I'm a little bit more Janis Joplin – you know that sort of vocal quality – so folk music worked out well for me!"
After about five years she and her bandmate called it quits, knowing it was only a temporary gig. Dcn. Erin and her husband Mike married in 2005 – the couple had met at Berry College – and promptly moved to Nashville, where Mike worked in ministry to refugee kids as a soccer coach. While Dcn. Erin still volunteered in youth ministry at the church they attended, she found herself aimless again.
"So I got a bunch of power tools, and hired a bunch of contractors, and started flipping houses."
The construction company idea was a partnership with her father: He was heading toward retirement with the Air Force, and flipping houses in historic east Nashville piqued his interest. He ran the investment side, while Dcn. Erin ran the rest of the business.
"But I'm in these houses cutting baseboard and listening to Luther's Large Catechism on my earbuds… and my husband was like, you really need to think about going back to school," she says.
Knowing her love of ministry and studying religion and scripture, Mike kept encouraging her to think about seminary.
"I knew as soon as I entered seminary, people were going to start asking questions. And I just didn't know if I wanted it," says Dcn. Erin. "I've had to do a lot of my homework to know that this is something that (A) God had called me to, and (B) that I wasn't doing anything wrong. It was really the support of my husband and his encouragement that pushed me that direction."
Before she had finished her MDiv from Liberty Baptist Theological Seminary, Dcn. Erin had already accepted the Assistant Chaplain position at Berry College, and she and Mike moved back to Berry in 2013. She says she had barely set foot back on campus before her new boss and Berry College Chaplain, Fr. Jonathan Huggins, started asking her about ordination. Her initial reaction was no.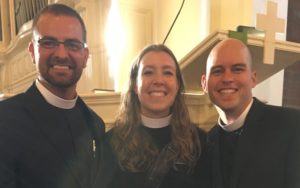 "All the ordained people I knew were priests and pastors, and that's not me," she says. "But as I was working at Berry those first few years, it really became clear. I started feeling this abiding weight, this sense that if I was going to be in full-time ministry in an occupational sense, that I needed to be connected. Not just to a church, but a church that was historic and orthodox; something that didn't just pop out of the ground yesterday."
She and Mike were unaffiliated with any denomination, so they started researching different traditions. With Mike's background in Roman Catholicism, and Dcn. Erin discovering the history of the diaconate, they started realizing that the Anglican tradition might be where God was leading them.
"I came across a line that really stuck out to me and that was, 'The job of the deacon is to communicate the needs of the world to the church.' And that was the line. That was the one that really grabbed me," she says.
"And the deacons I've met in ACNA and here in our diocese, they're running soup kitchens and they're in prison ministry, and they're doing all this stuff in these different arenas, and it's like, 'Wow, these are my people.' It was sort of this beautiful thing to come across the diaconate and say, this is a place where I might finally fit."
And when she discovered how thorough the discernment process is for ordination, she felt even more confident about becoming a candidate.
"By the end of it, I'm not the only one raising my hand and saying yes, I think I should be doing this," she says. "If it wasn't supposed to happen, if somewhere I had gotten it wrong, this process was going to root that out."
Dcn. Erin now serves at St. Andrew's Anglican in Rome, GA one Sunday a month, but the diocese recognizes her parish as the Berry College Chapel, since college chaplains have run services there for over 100 years. She also serves the college as a trained conflict counselor.
"The people who get drawn into my office tend to be the ones on the margins," she says. "It's kind of a funny thing that God does… It's like they can sense that I'm not all that clean-cut, that there's maybe a part of my past that's a little bit more like theirs.
"I get an opportunity to be accessible to those students, and I try to use that as a gift because I know at their age I probably would've been skeptical of someone like me. I'm bent over most days with the weight of what these students are experiencing, and I love that I get to journey with them. Most days I am just asking God to show me the way."
Dcn. Erin says the missing piece in her journey was being part of an institutional body that confirms the gifts in her and the work she's called to do, something she's found in the Anglican tradition.
"It connects me back to something that I feel very safe in… the striving after the gospel that has been going on since the very early days of the church, and for both my husband and I, that really suits us. It gives us a lot of confidence," she says.
"I love the work we do," she adds. "I love my fellow deacons. I love being a deacon. It's right where I need to be… And I see nothing but good things for the deacons who come after me and who continue to join in the work that we do as Anglican deacons."
Find out more about the ministry of Deacons on our Deacon's Page and check out a recent post about the Ministry of Deacons by Rachel Moorman, with Deacon Brad Guilford.
---