Songwriting at Synod and Beyond, with Musician Rachel Wilhelm
Rachel Wilhelm leading musical worship at Synod 2018; Archbishop Foley Beach worships in background.
"I've been writing songs from Scripture since I was a girl, and am still learning the craft as I go. It's not as easy as we may think, but there are ways to make it simpler."
Singer/songwriter Rachel Wilhelm will lead us in song again this year at the Mission Matters Conference and Synod 2019 – a gift she shared with the diocese last year – and will this year offer a songwriting workshop on Saturday of the conference as well.
"Basically when you can't hear your own instrument anymore because the voices are stronger, you have a good group of worshipers, and your job is done," she says of last year's Synod. "I was so blessed to lead and I met so many amazing people. I look forward to this year and am overwhelmed by how warm our diocese is."
Wilhelm is the Worship Arts Director for Redeemer Anglican in Dacula, GA, and lately released a full-length album entitled Songs of Lament, based on the Scriptural laments of the Psalms, Jeremiah, Lamentations, and Habakkuk. Wilhelm's workshop will explore how to take a passage of Scripture, break it down step by step, and write a song from it – using her own songwriting notebook as a guide.
"There are different ways to write as well, and my way is just one of the many," she says. "I hope that more songwriters will be encouraged to write from Scripture in our diocese, because creating and singing a song from Scripture helps you know it deep in your bones."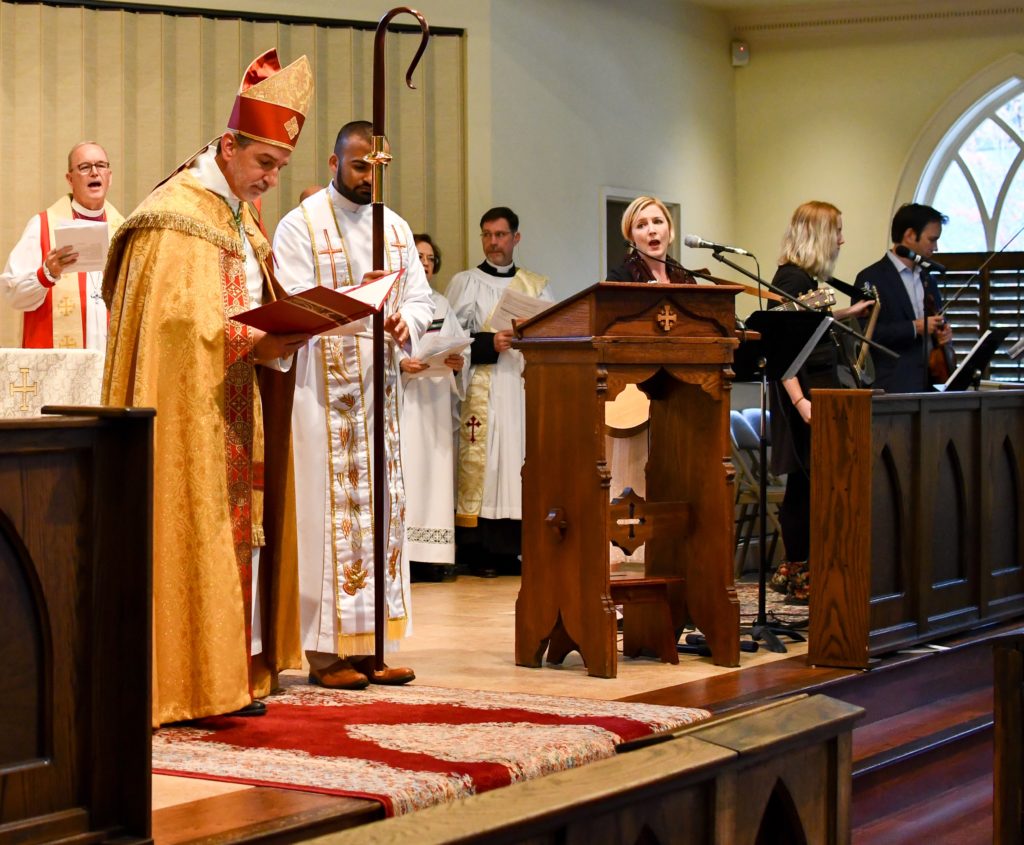 And Wilhelm aims to keep the songwriting momentum going – in ADOTS and the rest of the province – after Synod. She now serves as the U.S. Team Leader for United Adoration – a global ministry and movement within the ACNA that seeks to promote the arts in local churches. UA helps local artists create for their churches through songwriting retreats, and is rapidly growing and increasingly hosting more retreats around the world. Wilhelm says UA wants to return the Church to the position of curator of the arts to affect the culture of the world – instead of the culture of the world affecting the art of the Church.
"Many songs within the church are dictated to us by the radio or CCM [contemporary Christian music]. Instead of pushing artists out into the margins, we want to welcome them back in, and tell them that they can write for us, and we value their skill," says Wilhelm. "The healing, collaboration, fellowship, and beauty of music that is created for the Church is astounding at our retreats."
UA has a global presence with leaders in Africa and South America, and encourages church musicians there to tap into their location's own unique sound.
"When UA would go into Africa or South America, the locals would ask us what popular songs we were going to help them translate into their language from the States," she says. "It was a shock to them when we said, 'No, you are going to write songs for your church.' It is amazing to see the beautiful songs coming out of Africa and South America – songs in their own languages, displaying the heart of the people."
Here in the U.S., Wilhelm is hoping to raise up regional and local leaders in every state, and is currently arranging more upcoming songwriting retreats at local churches. Retreats are usually a Friday-Saturday commitment, with a small registration fee for participants, and meals in between times of creation and sharing.
"Artists can connect, receive prayer, seek soul care, healing, and create at a UA retreat. We eat together, commune together, pray together, and even sing together," says Wilhelm. "Artists also have a time for sharing what they have created at the end of the retreat and receive encouragement. Sometimes we can get up to 35 or more songs written at a single retreat!"
Wilhelm says a goal for UA is to see all Anglican churches promoting the arts and leading retreats for their artists.
"We hope that the Church can use UA as a tool to communicate to the Church, the world, and artists that they care about art once again and are willing to place value in it by hosting, sponsoring, and helping these new creative communities flourish," she says.
She encourages ADOTS churches and musicians to host a retreat, come to a retreat, and join the movement – "so this work of the Holy Spirit can grow into our local churches and continue to grow out into the rest of the world."
Find Rachel Wilhelm's contact information here to host a songwriting retreat at your church!
Register here for the Mission Matters Conference & Synod 2019, to worship with brothers and sisters from around the Diocese and attend Rachel's songwriting workshop!
---