ADOTS Youth Retreat!
Make Plans Now for the ADOTS Youth Retreat in 2018!
Mark your calendars (and get the word out!) that the 2018 ADOTS Youth Retreat for middle and high school students is coming up January 26-28, 2018.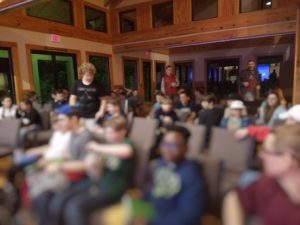 In January 2017, four churches from around the West Georgia convocation – All Saints in Peachtree City, Resurrection in Woodstock, St. Andrews in Rome, and Holy Cross in Loganville – participated in the retreat together, to great success. (Read about the fantastic time they had here.) This time around, they're inviting youth groups from around the diocese to join them for the retreat, which will focus on students' identity in Christ.
The retreat will be held at Camp Glisson in Northern Georgia, a location known for its waterfalls and beautiful mountain setting. Sessions will center around morning and evening prayer, small group discussions, and outdoor group activities… most certainly including the quintessential campfire and s'mores!
Students and adult chaperones will need to register online with a $30 deposit, and any adults attending the retreat will need to have completed a background check and Ministry Safe training: The diocese can assist youth leaders with this process if needed.
Check out more information below! Youth leaders may email Jessica Greiner (All Saints Youth & Family Ministry Director) with any questions or to receive a draft of this year's retreat schedule.
2018 ADOTS Youth Retreat
Identity: Knowing Who You Are in Christ
When: January 26-28, 2018
Where: Camp Glisson, Dahlonega, GA

Who: Middle School & High School students; adult youth leaders and chaperones

Cost: $160 per person. Includes facility use and meals from breakfast Saturday through breakfast Sunday. Please note: Individual churches may need to charge more per person to cover travel expenses or extra meals.
Registration: All adults and students should register online here with a $30 deposit in order to reserve their spot. The remaining balance of $130 per person is due to All Saints Anglican Church by January 22, 2018.
Mail to:
149 Ebenezer Road
Fayetteville, GA 30214
---