Welcoming the Stranger: Visitors and Newcomers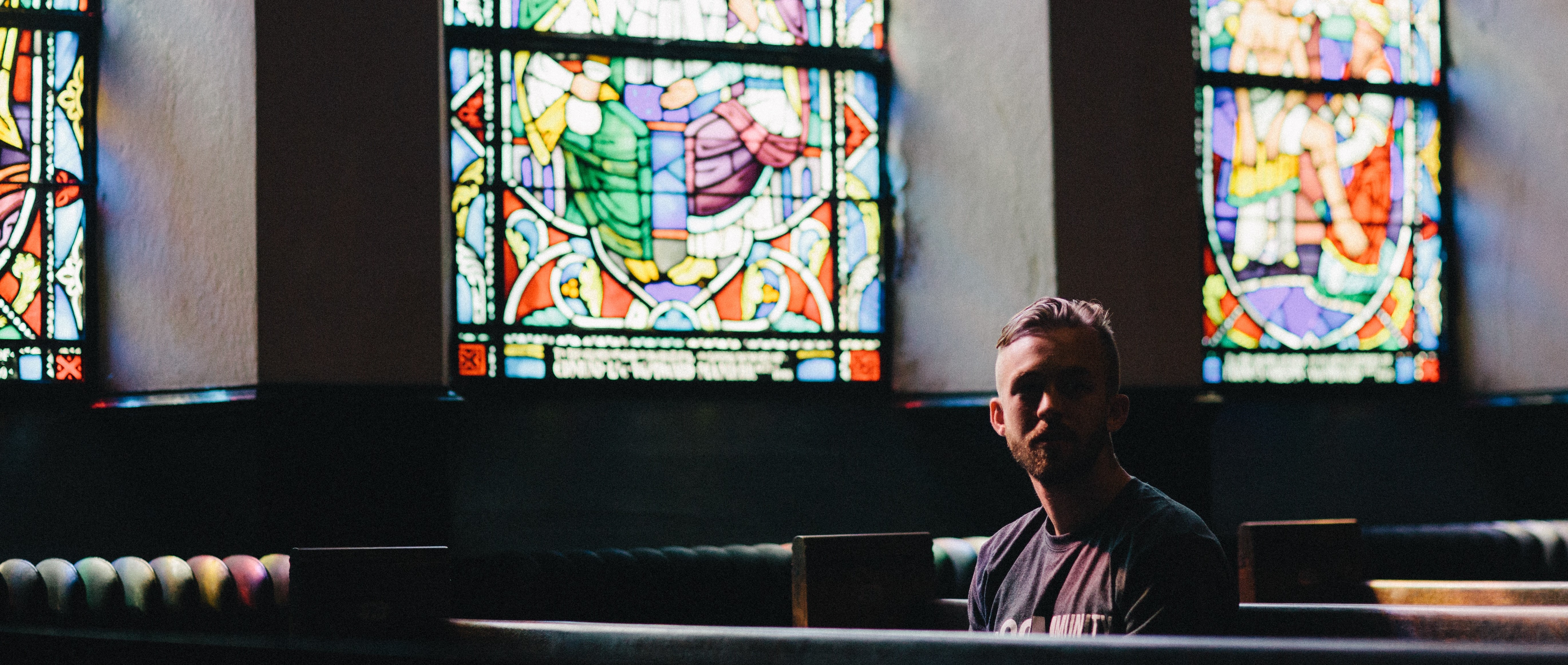 "… I was a stranger, and you welcomed me…" – Matthew 25:35
By Rev. Aaron Wright, Rector, Old North Abbey, Knoxville, TN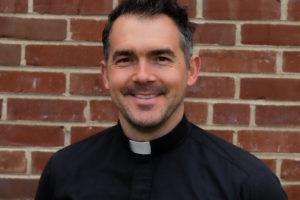 Several years ago, I walked into one of the most popular pubs in all of Ireland. It was a Pub of Distinction, a title given to pubs across the country for their warmth, hospitality, quality of food, and that all-important "pour" of liquid gold, Guinness. This Pub of Distinction, called Dick Mack's, has been the standard pub for many decades in Dingle and is located right across the street from St. Mary's Catholic Church. In fact, one sign reads, "Where is the church? Across from Dick Mack's." As I reached for the door handle, I motioned to my friend and fellow traveler, Nathan, to read the little sign posted just to the right of the door: "There are no strangers here, just friends who haven't met."
Here it was. I opened the door, and after much anticipation we stepped into Dick Mack's.
Crickets.
But, it wasn't that it was empty. Au contraire! It was packed. But our entrance produced a collective silence. Whatever party was happening came to a screeching halt. We stood there with about forty old men staring back at us. I froze. No chairs were empty. I looked for a place to stand, but we were now sole possessors of that last space. I said what any extroverted, 28-year-old American guy would say… "Hello! How's it going?" I think the only noticeable response was that the bartender blinked.
We left. We could hear the pub coming back to life as the door closed. We laughed at that sign the rest of the trip saying, "There are no friends here, just strangers who haven't met."
Many of us in ministry are mostly unaware of what it is like to visit our own churches. Our eyes are not awakened to the patterns and behaviors that we participate in weekly or daily with "our own people."  We are often blind to how folks may view us, feel about us, and even talk about us. We don't see our space or the way we move about it the same way visitors do. Unlike us, they are keenly aware of every move we make and every word we speak. And, hopefully we are not as anxious or nervous about being in our church as they are when they visit.
Every church is different. Every parish has its own ethos. No two churches should approach visitors the same way. That would be really boring, and honestly devoid of the Holy Spirit's breath of life moving through His people. Your church will be totally different than Old North Abbey because your people are totally different. We do what we do because of who we are. However, here are a few things I think are helpful…
Find Your Sally(s)
Sally had been a member at ONA for roughly two years with her husband Jeff. Sally always sat on the fourth row to the right. She and Jeff are the kind of people who are simply going to be at church. But, after about two years I began to see some movement in their positioning around service. I began to wonder if they were losing interest. Sally would even get up in the middle of service and wander off for a minute or two. I was just about to approach Sally when she approached me.
"Can I tell you what God has been doing lately?" she asked me one Wednesday night. My ears perked up. "I have been moving around to sit beside new people when they come in, and," she continued, "I find that it is such a blessing to me to help people walk through a Sunday worship service." I remember just smiling from ear to ear.
Sally is now a leader for our hospitality team. We always had hospitality folks in place, but now they are actively seeking out visitors. If we pay attention, we will see those in our churches who are already extending the gift of hospitality to others. Look at who is the first to help visitors, who doesn't allow new folks to be left alone in the Passing of the Peace, or who everyone enjoys spending time with already. These are people who can drastically take your church from a "nice group of people" to a church that helps reveal the great hospitality that God has for all people.
A Fresh Set of Eyes
Maybe it is a good practice for us to walk through our church on a Sunday morning before anyone arrives, take a seat, watch our folks move into the space, see how they talk, interact, witness the habits they have formed, and then see how they respond to the much-coveted visitor. How are we hospitable to those walking through our doors?
I know that many are burned out on the "seeker sensitive" model that has produced an almost false sense of Christian hospitality, rooted only in making people feel "comfortable" instead of bringing folks into the sweet presence of Jesus and His people. If people wanted to only feel comfortable, they wouldn't be coming into our doors in the first place. They want something more… They want to discover the goodness of God.
A Consistent Space
I remember visiting a church about a decade ago that had formed a strategy for bringing people in by making their oversized narthex look like a hunting lodge. They were unashamedly going after the men in their community. They thought that having a "comfortable" setting would make folks attracted to their church. I don't think it worked. This creates a dualism within our spaces.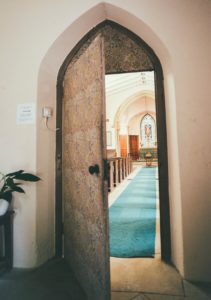 In an Anglican setting, our worship space is more or less the same in terms of form. I know that many will disagree with me on that, but I am not talking about the location of table, "high church" or "low church", processional or not. What I am talking about is how visitors view our churches. When a visitor enters the nave/sanctuary they are all aware that this is where "it" happens. We have a table, a cross, a lectern, a pulpit and then other worship elements depending on the local expression. But walking into many churches I have often wondered why we aren't already preparing visitors, and even our own folks, for the entrance into the place where "it" happens. Why are many of our narthexes more like hotel lobbies than places for worship? Why are our narthexes not "religious"? I want all people to instantly realize they are stepping into a different kind of place.
Here is why I think it's important: People converse and get to know each other in the narthex. It is the place where people mill about and get acquainted with the ethos of the church. I think those first moments of hospitality should happen in the midst of a distinctively Christian space and not in a neutral room. We want people to be awakened to joy in the midst of "set aside" spaces. At Old North Abbey, our narthex, which is small and a bit tight, has a beautiful icon in it, the Holy Scriptures opened up and mounted on the wall, a large Nicene Creed, and will soon have the words "Lift Up Your Hearts!" inscribed above the door leading to the nave. Even our processional cross will be very visible as folks enter into our space. The narthex prepares people for worship.
The Follow-Up
We all have different ways of gathering information from visitors. I don't think one way is better than another, however I do think the follow-up makes a huge difference. I have found that what means the most is the handwritten letter. But here is the catch: If you're clergy, don't write it. Let it come from the people. Have a couple of trustworthy folks in your church write a thank-you note on a card with your logo or the name of your church on it.  If it comes from clergy, it is considered "part of the job."  If it comes from someone in your parish, it is an act of hospitality.
One of my favorite things is connecting with people who have visited ONA. If you're clergy, call them and thank them for coming; visitors find this quite unexpected… a voice is much better than an email. I have had numerous occasions of being in a visitor's home for a meal and seeing one of our card letters stuck to the fridge. Those folks are still worshipping with us.
Many things go into making a Sunday "work," and this is truly a scratching of the surface. But remember, people want to come to your church. They want to discover something unique, something greater than they can find at a coffee shop, a library, or even a Pub of Distinction on a Sunday morning. They wouldn't be there otherwise. They have risked being uncomfortable and out of place to meet you. Usher them in to God's great hospitality. Move them from strangers to friends. They'll be ever grateful.
---
Edited by Rachel Moorman, news@adots.org