Synod Workshop: Sharing Your Unique Parish

---
---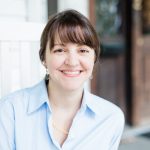 Rachel Moorman is Communications Associate for ADOTS and will be leading our workshop on Church Communications at Synod 2017.
---
"Now there are varieties of gifts, but the same Spirit; and there are varieties of service, but the same Lord; and there are varieties of activities, but it is the same God who empowers them all in everyone." – 1 Corinthians 12:4-6
I've been with the diocese for a little over a year now, and have had the great pleasure to talk with a variety of people around the region for the articles I've been writing for ADOTS. It's been incredibly rewarding to get to know others in the diocese and to know more specifically what's happening at those other churches, and share the stories of their parish happenings. When we get to the Prayers of the People during Sunday liturgy and we pray for another ADOTS church, I often think, "YES! I know some of them! I've spoken with them; I know what's happening there."
But this is a luxury perhaps only a few people in each parish have. One thing I've noticed in particular: Clergy across the diocese have several points of connection with each other – which is wonderful and needed – however, the laity don't really have a similar network. I sense many lay leaders would like to connect with the happenings and resources of other parishes, but usually go through a clergy member to find this information – and clergy already carry so many responsibilities of the parish.
What if parishioners across the diocese could connect more freely with each other? What if the unique solutions and resources of one parish were readily available to help guide another parish looking for that very solution? From evening prayer to establishing community relationships, youth outreach to serving the homeless, prayer ministry to catechesis… What makes each parish unique in its ministries could help another parish succeed in the same area, if we are only able to share what we've learned.
Within our parishes, we recognize that we are all different parts of the same body that must use our gifts together; so it is within our diocese. This workshop will focus on identifying the processes, projects, and people that make your parish unique – false modesty not allowed – and how to share this with the rest of the Church… for Christ, for each other, and for the life of the world.
Registration is now open for Conference & Synod 2017: Mission Matters. Join us November 3-4 as we explore how local churches can be on mission in today's world, reach out to our communities with the Gospel, worship, re-connect, learn, and discern together!
Visit the Conference & Synod 2017 site to learn more about speakers, workshops, lodging, and the weekend schedule.