Stories from SnowJam 2014
"We give you thanks, O Lord, for your presence with us in the midst of all dangers, and your grace to help us serve those in need."
"If the goal here is to share the love of Christ, y'all are nailing it."
"Sweet Holy Spirit! Stay right here with us, filling us with your love."
"As I watch a sea of white moving toward me, I cry out 'Hold me Lord, hold me!'"
The snow event in the Southeast has come and gone, and the stories of ADOTS folks are coming in. We'd like to share just a few with you, representing the many. We'll update as more stories arrive.
Posted Jan 31 1:40 pm
---
From Fr. Mark Quay, St Peter's, Birmingham: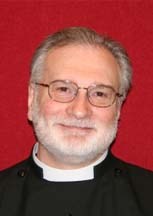 Tuesday night I joined a crew of about 8 other folks from the neighborhood to clear out a jam at the bottom of a hill. Hill was covered in ice and packed snow. We would stop cars to allow one to go up then another to go down and so on. Several of us with snow and ice driving experience would instruct drivers on how to handle to hill (I learned to drive in North Dakota). Sadly a lot wouldn't listen to us so we would have to dig them out or push them. My wife Jani brought coffee and sandwiches for the crew. It took us about four hours. We freed a couple dozen cars. It was fun but boy was I sore the next day.
We had 3 inches of snow here. A lot of parishioners reported they took 7-8 hours to get home from a commute which would normally take 20-30 minutes. Most streets are clear now but there's still a lot of ice on shaded areas.
---
And a Thanksgiving Story from Pam Hooks, Resurrection, Woodstock whose car slid into a ditch, and then who was helped by the kindness of strangers.
H A L L E L U J A H ! THANK YOU, JESUS! You are Awesome! I am So Thankful to be home tonight!!! My Blizzard 2014 story: I had my post-op visit with my neurosurgeon Tuesday morning in Rome, Ga. As I headed out of town to come home around 11am the snow was making a fine white blanket on the roadways. Traffic was beginning to move slower, then one by one cars began sliding on rapidly forming ice. I was nearing the outskirts of town when I started having questions about whether I really wanted to be where I was. Looking to my right I saw a Steak-n-Shake, with a sign that read: "Open 24 hrs." Aahh, that sounds like a good place to be. I pulled into the parking lot & went inside. As I sat eating my lunch, I watched the ballet of automobiles doing their dances across the snow and ice in the street . Employees eager to give others a hand, bundled up and went out to help frustrated drivers point their cars in the right direction, and get a little further down the street. I thought to myself ,"what a great place to ride out the storm: good food, restrooms, and even outlets to re-charge my phone."
Then around two o'clock I heard the Manager say that the evening crew would not be able to make it into work; they would have to close early. "Say what???" Ok, got to come up with a new plan. Do I sleep in my car? Do I try to move on down the road? A road crew had come by and put down gravel on the street; traffic seemed to be moving better. The snow was letting up. This was to be the warmest point of the day. If I was going to move on, this would be the time to do it. Maybe I could make it the 30 miles or so down the road to Cartersville. At least I would be half the way home. Say a few prayers, scrape the 2″ of snow off of my windows, join the caravan. Moving traffic is deceiving, just around the corner everyone is at a stand still. Slowly, we all inch our way ahead. 30 minutes later I've gone 1.1 mile. The snow is beautiful as I try to take a few pictures of the trees in the median while I'm waiting my turn to move a few more inches. Finally, the edge of town! Things open up a bit, and we are finally on our way! It's difficult to tell where the lanes are; just pick a safe looking spot and stick to it. Actually able to move at a steady 15 mph, this is great! Still praying. Cars are everywhere along the sides of the road. Three hours later, I'm coming into Cartersville, yeaaa! Just round this ramp up onto 411.
I'm just passed the guard rail, when my car suddenly decides to do its own little dance. In a split second I know there's no way out; this is going to happen. As I watch a sea of white moving toward me, I cry out "Hold me Lord, hold me!" … I lean down into the passenger seat to prepare myself for a roll. Hold me Lord!! In only seconds the car comes to a soft stop. I didn't roll! I didn't hit the fence or trees in front of me! I look behind me, I'm at the bottom of a 12′ embankment. I'm suddenly overjoyed; "Thank You Jesus!! Thank you!! You are so awesome!" I pull out my phone and try to text my Husband. My hands are shaking so bad, I can hardly hit the keys. I'm ok, the car is ok. Now what?
Suddenly, a knock on my window: "Are you ok?" Someone has stopped to help me, then another. They help me climb back up to the street. Two Sheriff's Deputies have arrived, and take me to a nearby Walmart to wait for my Husband in warmth and safety. I'm still pretty shaky, so I grab a shopping cart and just walk for a while. My Husband is at work in Kennesaw. He leaves immediately to come to my rescue. Road conditions are really bad by this point, don't know if he will be able to make it to me. After about 3 hours he makes it home, but highway 20 is shut down; no rescue tonight. I buy a book of puzzles, a pillow, and a box of chocolate muffins. Sounds like everything I might need to get through the night. I inform the Manager that I will be with them for the night, then settle on a quiet bench in the back of the store. Work a few puzzles, take a stroll occasionally, not bad. 4 am, my eyes are crossing, the brain has shut down; the book is no longer helping. Try a muffin, chocolate helps anything. I'm desperate for sleep, been up since 6 the previous morning. By sun rise I'm starting to lose it, I call my husband,upset, but there's nothing he can do to save me. He feels so helpless. The snow will not be melting anytime soon, and it looks like I will be spending another night.
I go to the bathroom and cry; "Lord Please provide some way for me to get home, Please!" When I get myself together, I go back out on the floor. One of the managers sees that I'm upset, and offers to take me to a nearby hotel that he's taking some of their employees to. That sounds good, an actual BED to lay in. I agree to go. They take me to their breakroom for coffee and donuts. While I'm enjoying a nice hot cup of coffee, someone else comes in and says he'll take me HOME! "What? How can you do that?" "4-wheel drive, I can do it!"
I'm desperate; I gather up my puzzle book and pillow, and along with another employee I climb up into a jeep and head for home! My rescuer is Josh Brown, optician for the Cartersville Walmart. He has been getting stranded people home since 11 o'clock Tuesday morning! As we slowly make our way toward Canton, we stop several times to offer others a ride. One accepts, and joins our crew for a few miles. After two hours, he delivers me safely to my driveway! God wasted no time in answering my prayer! Still shaky from my ordeal, my Husband gets me inside and puts me to bed for some very needed sleep. 10 hours later I wake up, thanking God for getting me here. I know that there are many, many others who had to go through a lot worse than I did. I am very thankful for Josh, and for his compassion for others. It showed me that there are still people in this world who are willing to give a helping hand to others in need. I want to thank his wife, Melissa, for her patience and support while he took care of others.
Thank you to ALL of those who reached out to help others in this crisis, and most of all, THANK YOU JESUS!!!!
---
Posted Jan 31 8:00 am
---
Some folks ended up in the massive traffic jam.
Fr. Chima Ekeke, of All Saints Atlanta, spent 23 hours trying to get home.
By His grace and mercy, I arrived home safely yesterday evening after spending almost 23 and half hours in my car driving from my downtown office to my home in Douglasville. Nearly after 13 hours of nightmarish driving, I ended up at a gas station on Cascade Road, half way of the trip and back-way to go home. I spent the rest of the night in the car at the gas station, which was packed, nearly fifty people clustered inside the gas station. The gas station had only one-bathroom. You could imagine.
I made it home at about 4 pm on Wednesday, a journey that began about 4 pm on Tuesday 1/28 as well. Words alone cannot capture or describe the scene. Cars every where — that were stuck on ice, cars abandoned all over the road and sideways, people walking on ice seeking for refuge and where to spend the night. It is indescribable. You have to be in the situation to comprehend it.
I pray all of you are safe and doing well. Once again, I give thanks to God for His protection and safety during disastrous times like this.
---
Fr Bill Humble, Rector at Holy Trinity, Flowery Branch, also had to spend the night in his car, arriving home at 6:30 am on Wednesday. Exhausted, he still had just enough energy to give God thanks:
Home safe. Car and driver in one piece. Thanks be to God.
---
Christa Prince, member at Resurrection Woodstock, ended up lending a helping hand in the name of Christ, to a family in need:
The roads were already getting icy, and I was just let out of class so I decided to stay at my friends apartment 5 minutes from KSU's campus. We hung out for the day and decided later to meet up with some friends at the Dunkin Donuts across the street from their apartment. We found our two friends Joel and David with coffee in hand, defrosting inside.
They had just spent 4 hours helping push cars that we're getting stuck up a hill on Chastain Rd. approaching I-75. They were soaked and exhausted. Out of the corner of my eye I saw a baby car seat and immediately tried to decipher the situation.
Babies are kind of my favorite thing and I'm drawn to them. I noticed the parents; the dad was in shorts and flip flops and the mom looked drained. Then I noticed the tiny baby on her chest, my guess was about a week old. I pointed them out to my friends and said, "They have a baby. We should offer to let them stay with us."
We saw them start packing everything up and going back to their car. We knew we wouldn't be able to sleep not knowing if they were safe. So the Ansleys gave David the okay (since we were offering their apartment) and he sprinted out to their car to catch them before they drove off. The family said they had a 1 star hotel booked a mile up the road but would take our info just in case. Turns out the hotel had overbooked so they headed our way. We found out their names were Logan and Lea and their baby was two week old Madison. We gave them one of the rooms with a bathroom and made a pallet on the floor as well. They scarfed down some soup, watched the end of The Notebook with us, then headed to bed. They were so appreciative. They left really early the next morning because "the roads were open."
It took them several hours to get through Atlanta, but they kept us updated and kept telling us how much of a blessing we were.
They said, "If the goal here is to share the love of Christ, y'all are nailing it."
---
Folks at the Village Church, Vinings, were very close to a major trouble spot. Music Minister Mark took in the Williams family. Below is a link to a video of a special moment of worship that night:
Check out a video of a special moment during that night on our facebook page, here.  
Another family at the Village Church represents many who went out to help. Brian helped cars and a school bus navigate the ice, while Katie and Baby Jack supported him. Other families took in strangers as well.
We will continue to update this page as we hear more.