Mission and Giving Opportunity: Serving 'The Least of These' on the U.S.-Mexico Border


"When a stranger sojourns with you in your land, you shall not do him wrong. You shall treat the stranger who sojourns with you as the native among you, and you shall love him as yourself, for you were strangers in the land of Egypt: I am the LORD your God."
— Leviticus 19:33-34
"The need and scope of the humanitarian crisis is overwhelming."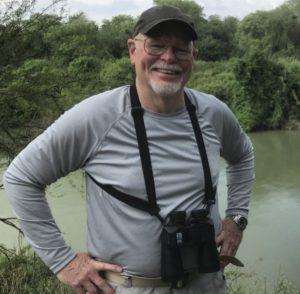 The Very Rev. Dr. Henry Baldwin, retired Dean of Holy Cross Cathedral, is joining the team at Trinity on the Border – a chapel and outreach ministry working on the South Texas-Mexico border in the areas of Brownsville and Harlingen. He says short-term mission teams would be very welcome this Fall 2019 and Spring 2020, as the immigrant crisis there worsens.
"Every day more than a hundred men, women, and children come into the Respite Center
which Trinity on the Border is helping to support," says Dr. Henry.
With all mission work flowing out of its Anglican chapel and Eucharistic environment, Trinity on the Border provides ESL and citizenship classes, activities for immigrant children, free medical care for immigrants through its mission clinic, and advocacy for immigrants and unaccompanied minors in child detention centers.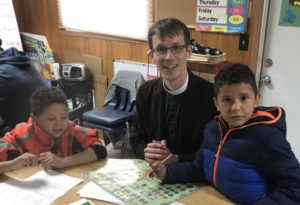 In its latest newsletter, Trinity on the Border says, "Nearly every story is a hard one to hear, more than our humanity can bear. But God continues to remind us of His goodness and that it is our privilege to be able to offer his light in the midst of such a great darkness."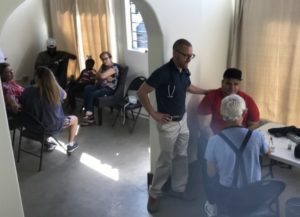 Dr. Henry encourages churches to send youth on their teams, as there are activities in which they could immediately serve – but that it could be a life-changing experience for people of any age.
"The importance of this matter to the Church is made very plain in Scripture," he says. "We turn from it at the peril of being inauthentic as believers, and as The Church."
He also encourages people to watch a documentary on the immigrant population and crisis – following the stories of several immigrant families – created by the Evangelical Immigration Table. Both the 40-minute film and the trailer can be found here on their site for free.
Short-term mission teams from ADOTS churches this fall and next spring would be a welcome help to the mission. As an example, teams could plan for a 7- to 10-day trip, spending half-days at the center doing immediate good with staff there, and spending the other half of the day in fun activities at the beach or otherwise. If you or your parish is interested in going to help on a short-term basis, please email Candace Champness at Candace@adots.org.
For those who cannot serve on a trip, there are other ways to help:
• Give financially. Visit the mission's Giving Page to donate.
• Basic Hygiene Kits. Churches can put together these easy kits, which are given to immigrants at the mission's partner Respite Center and shelter. Trinity on the Border has instructions for the contents of the kits and where to send them, here on its Ways to Help page.
Visit the Trinity on the Border website to learn much more about all the ways the mission is serving those in immediate and long-term need at the U.S.-Mexico border.
"Then the righteous will answer him, saying, 'Lord, when did we see you hungry and feed you, or thirsty and give you drink? And when did we see you a stranger and welcome you, or naked and clothe you? And when did we see you sick or in prison and visit you? And the King will answer them, 'Truly, I say to you, as you did it to one of the least of these my brothers, you did it to me.'
— Matthew 25:37-40
---