Rwandan Food Relief Efforts Report
The Covid-19 lockdown in Rwanda has created a food distribution emergency. All Saints Peachtree City, GA partners with the Kibungo Diocese in Rwanda, and Fr. Don Hutchens has an update on the funds sent by many ADOTS churches and individuals for this urgent need:
Dear Brothers and Sisters,
I bring greetings and thanksgiving from Bishop Emmanuel NTAZINDA, Bishop of the Diocese of Kibungo, Rwanda. Your generosity and compassion in the Name of Lord Jesus Christ has blessed many who were so dramatically impacted by the Rwandan government shutdown emanating from the Covid-19 outbreak! Bishop Emmanuel has provided two summary reports that chronicle what your love in Christ has done for your fellow Christians in the Diocese of Kibungo. I am providing a summary in effort to reflect the hope and care our work together has provided others in the name of our Lord.
Donations that are applicable to this summary total $7,600 and were donated in the name of three specific congregations, while many others were received electronically from other unnamed congregations and individual parishioners. It is important to note the total giving was reduced by transfer fees totaling approximately $300 at the time the funds were sent and received in Rwanda. We bundled the donations when possible to minimize the transfer costs. We recently received a donation of $5,000 from an ADOTS congregation, which will be applied to further work in feeding those throughout the diocese that are in need. To date, in total, you have generously given $12,600 to providing food to our brothers and sisters in the Diocese of Kibungo!
Here is a summary of Bishop Emmanuel's two reports:
"The vulnerable families that received relief food were selected from different parishes of Kibungo Diocese, depending on their situation they were in and and the ability to support." (Bishop Emmanuel's report)
264 families in six of the most impacted parishes (Rwamagana, Kanazi, Gashongora, Musaza, Bukora and Gatore) received vital food and cleaning supplies.
1465 KG of Maize flour, 1441 KG of Beans, 1265 KG of Rice, 369 Liters of Cooking Oil and 129 Bars of Soap were purchased and distributed.
A total of 4,894,250 fr were directly applied to the purchases chronicled in these two reports. That represents approximately $5,300 with the remaining transferred being utilized in the ongoing effort.
Below are pictures from Rwamagana and Gatore: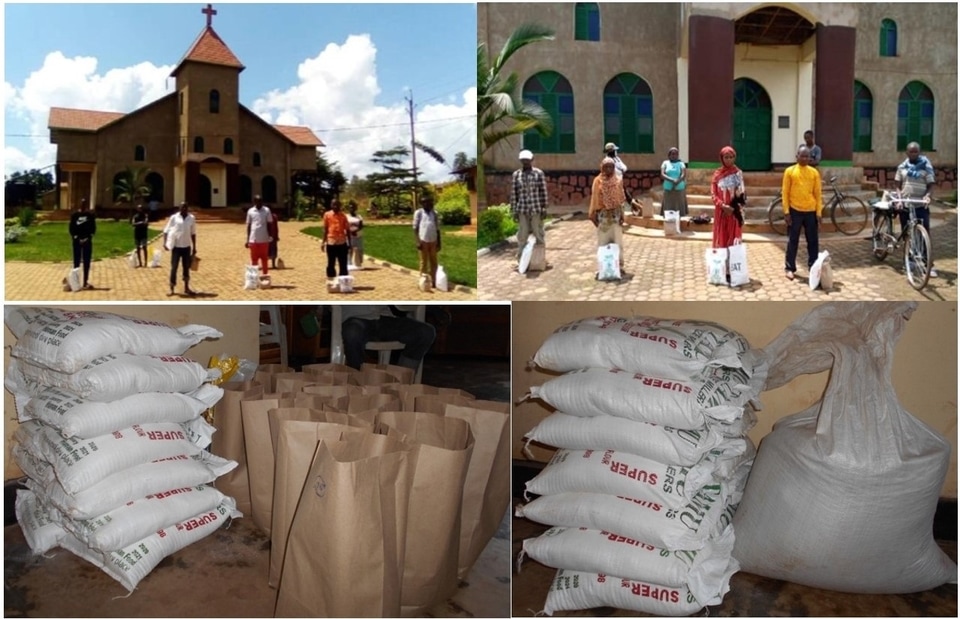 The last pictures we received were from Bukora and Gatore. The Government of Rwanda has stopped photos being taken while people were receiving the support. However, looking at the photos you can see great care was taken to pack the food in small containers for families to carry home.
The effort continues as the need is still great. Donations can still be made through All Saints Anglican Church and will be directly applied to feeding those who are most vulnerable. On behalf of the Christians in the Diocese of Kibungo, their shepherd Bishop Emmanuel and all of us at All Saints Anglican Church, thank you and God bless you for your response to the need of your fellow Christians! But, let me leave you with the direct words of Bishop Emmanuel from his second report:
We are very thankful to the Lord and to you for this provision. A true friend stands with you in happy times and in sad times. This is what friends are for. Bless you, and be assured of our thoughts and prayers.
Bishop Emmanuel NTAZINDA, Kibungo Diocese, Anglican Church of Rwanda.
Respectfully submitted your servant in Jesus Christ,
Fr. Don Hutchens (Rukundo)
All Saints Anglican Church, Peachtree City, GA