New Wineskins Experiences from Around the Diocese

The New Wineskins Missionary Network hosted its ninth Global Mission Conference at the end of September, drawing missionaries, laity, and clergy from around the world. We asked a number of those in the Diocese of the South who attended the conference to share their thoughts and experiences.
"I was in awe and wonder at all that the Lord is doing among the nations. The things that we have thought impossible are happening! Through the displacement of war, the horror of persecution, and the sacrifice of those willing to die for the gospel, we are seeing the impossible happen. Praise God for those who are going, for those who are sending, and those who stand in prayer."
Canon for Myanmar Rev. Keith Allen, Holy Trinity, Madison, MS 

"New Wineskins 2019 was one of the most blessed gatherings Nina and I have ever attended. It was a new awareness of the need for support of missions, and the stark reminder of the two billion individuals representing 17,000 people groups to whom the Gospel has never been proclaimed."
Bill Bugg, Jr., Christ Church, Cashiers, NC
"We were greatly encouraged to be among hundreds of Anglican believers, many of which were from all over the world. It was humbling to witness many Bishops sharing their struggles, joys, and steadfastness in the face of opposition to the Gospel. We came away with a sense that these worldwide leaders were not focused on building their earthly kingdom at all, but only the kingdom of God. There was a strong call to fellow Christians to stand in prayer, solidarity, and be generous supporters to the persecuted church and to unreached people groups of our world. Also, we found helpful resources for a smaller church to move forward in forming a vision for short term missions leaders and opportunities within their congregation."
Travis & Mary Cargle, Old North Abbey, Knoxville, TN
"The closest experience to heaven on earth! New Wineskins was a micro display of 'a great multitude from every nation, all tribes and peoples and languages…Crying out, Salvation belongs to our God…and to the Lamb.' (Revelation 7: 9) GLORIOUS!"
Rev. Canon George Ivey, ADOTS Canon Missioner
"A reality check… The harvest is plentiful but the workers are few. Pray for the Lord of the harvest to protect and sustain those in the fields and ask He sends more to seek and proclaim to those who have not heard!"
Very Rev. Don Hutchens, All Saints, Peachtree City, GA
"Once I graduate, I plan on leading a college ministry at my home parish. I was incredibly thankful to be able to connect with various clergy and laity who are already involved in similar ministries; the wisdom they gave me during our discussions was enough to write a book on! I am keeping in touch with them as I continue to prepare for what God has planned for me in the future."
Adam James Gadomski, St. Patrick's, Murfreesboro, TN and student at Trinity School for Ministry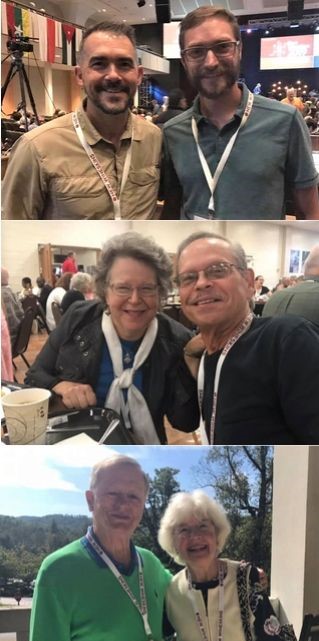 "[I was] challenged in a number of ways: to obey… to reach unreached people in the 10/40 window… to instill this same passion for mission amongst my whole flock. Realization that mission abroad, personal faith and zeal and a desire to spread the gospel here at home are all interrelated. It was a powerful conference, as always."
Rev. Horace Tipton, Trinity in the Fields, Marion, AR
"One of the greatest joys was being joined by six members from our parish experiencing New Wineskins for the first time! The worship, the speakers, the 'divine appointments' experienced over a meal, or with someone in a break-out session – and making connections! We are meeting next week, to share what the Lord has placed on our hearts as individual goals, and begin to pray and discern what/where God is leading our congregation in missions. The amazing testimonies… people's own stories and miracles in their lives were humbling to say the least… to pray for the persecuted church and the men and women who were putting their lives on the line for Christ every day."
Rev. Dcn. Sandi Harding, Resurrection, Woodstock, GA
"One of the Lord's means of grace for me was meeting and praying with a woman from a closed country who fled the regime there decades ago. Christ's ministry through her and her husband is one of the largest refugee ministries in the country. It was one of many unexpected but providential encounters with Christians from around the world."
Rev. Michael D. Matlock, Asbury Theological Seminary and St. Andrew's, Versailles, KY
"It was a sobering experience to learn of the trials and tribulations of the persecuted church; a subject rarely broached in our American culture. As a result I am firmly and gently confronted by the Holy Spirit about my own impatience in this affluent culture. Concerning our local church, the group that attended the conference is meeting to distill and discern God's direction for the church."
Marissa Woodall, Resurrection, Woodstock, GA
"The New Wineskins Conference gave me an excellent opportunity to network with international ministries and introduce them to the newest solar powered devices that can deliver the Bible, The Jesus Film, etc., to their people in their 'heart language.' However, being in contact with the persecuted church altered my prayer life substantially! It brought a reality check to the plight of our brothers and sisters in Christ. Our local church's mission group meets monthly and will use the information from the conference to discern the Lord's leading and act accordingly. All in all an outstanding experience!"
Johnny Woodall, Resurrection, Woodstock, GA
If you were unable to attend this year's conference, visit the New Wineskins Missionary Network Facebook page to find links to conference videos and more!