Life on Wings
What is Life on Wings?
L.O.W. is a perfect vehicle to get small groups focused on discipleship started or enhanced in your parish. Even if you have never led a small group before – or are unsure where to start, this seminar can help you with everything you need to get disciple-making going in your parish and among your vestry members.
Here's how it works: Life on Wings uses readily accessible technology to lessen the burden on the small group leader and to enhance participation by all the members.
All the Spirit-filled teaching of Rev. Terry Fullam has been arranged into about 25 minute MP3 segments. These were then organized into year-long curricula based around key topics for the growing disciple. Discussion materials and handouts also accompany each of these modules.
This material is sent to the small group leader each week, and the teaching is also sent to each of the small group members. Just like that, a viable small group can be formed, based on powerful, Spirit-filled teaching from God's Word.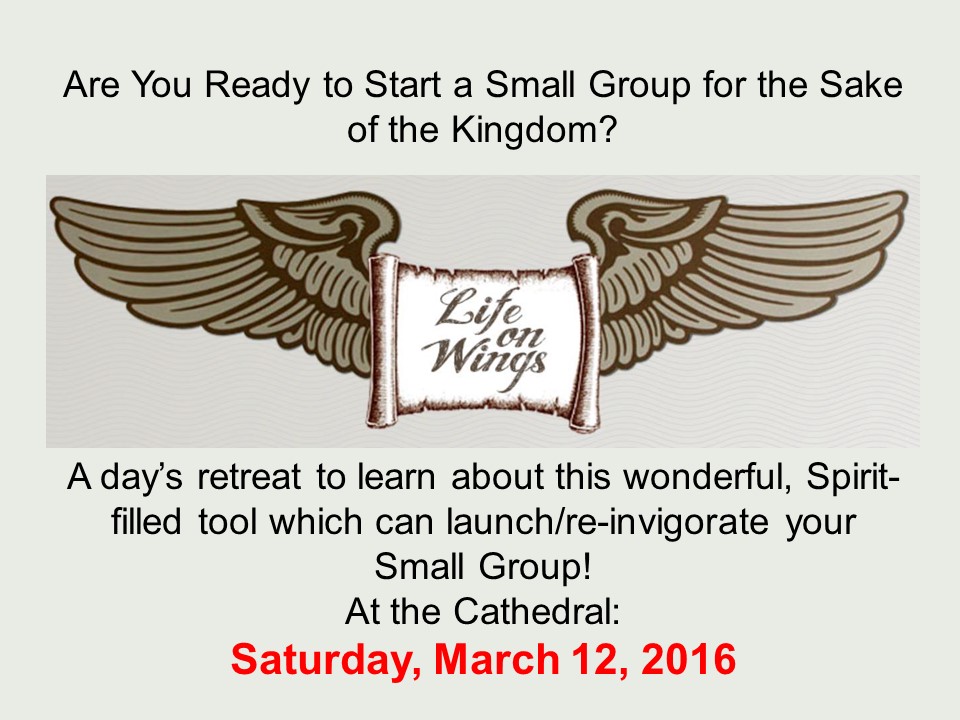 The ADOTS seminar on the 12th of March is a perfect opportunity, to find out how you – and anyone in your church – can recruit, establish, and sustain a small group. In one brief Saturday session (10 AM – 3 PM), you'll be able to meet the designers of L.O.W., test the materials, get tips on how to start a group, and sign up for the program.
The cost is free, lunch will be provided, and access to this unique, useful vehicle can really help to "jump start" home/small groups in your parish.
I encourage you to take advantage of the time.
Contact the Cathedral by Tuesday 8th March to let them know you are ready for Life on Wings! Parishadmin@hcanglican.org
Saturday, 12th March 2016
10 Am to 3 PM
Holy Cross Cathedral
3836 Oak Grove Road
Loganville, GA 30052
(Located at the corner of Oak Grove and Brand Roads)