Creating a Preparedness Plan
The Humanitarian Disaster Institute at Wheaton College has prepared a guide to help local churches create preparedness plans. If you are looking for a way to plan for the next few months, and beyond, this resource is just for you.
We don't know what the rest of 2020, and beyond, will look like. But taking some time now to create plans for various scenarios will help clergy and lay leaders lead well.
The plan includes the following steps:
Get Organized
Create a Health Team
Develop a Communications Strategy
Focus on Church and Community Outreach
Strengthen Preparedness Through Collaboration
Adapt to Changing Needs
The guide says,
The aim of this guide is to help churches in the United States plan and prepare for COVID-19. This church planning and preparedness guide draws on biblical wisdom and our team's research. We will share insights and best practices from our collaborative work with local, state, and federal public health agencies.
Our team's experiences with helping churches around the globe for nearly a decade have also informed this guide. Church planning and preparedness should not be developed in a vacuum. It's important to recognize that each church has its own history, culture, and approach to ministry.
Successful church planning and preparedness should also acknowledge the unique risks each community faces, as needs vary from region to region and church to church. A plan is a tool. It doesn't need to be large or detailed in order to be useful.
The goal of having a plan is not to turn your church into a mini-public health agency, but rather to incorporate public health preparedness into your ministry. If you are spending more time creating a plan than working on ministry, it may be too large or complicated, and it probably means it won't be feasible to implement or sustain.
The guide also includes simple checklists that could be very helpful to small teams: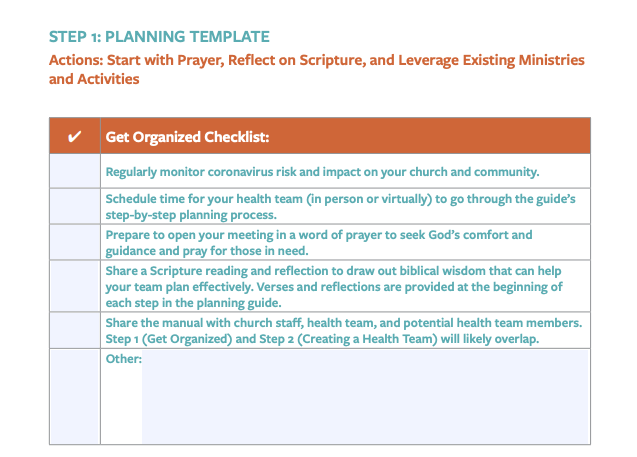 ---
You can view or download and print the plan guide here.
---