Community-Building during COVID-19
Each week, ADOTS will be publishing stories of connectedness and ministry from around the Diocese during this time of social distancing. Please share the ways your church is ministering with Rachel Moorman at news@adots.org.
Some very heartwarming times of togetherness shared with us from Christ the King in Birmingham, AL!
Church Administrator Chrissy Coblentz writes in their recent newsletter, "Praise the Lord! The coronavirus has not stopped community from happening through Christ the King Anglican Church! It has been heartwarming to see the ways you've all been friends, neighbors, servants, and bringers of joy to each other during this whirlwind-of-a-week of social distancing."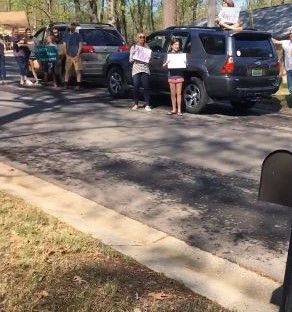 Recently a young parishioner celebrated her 11th birthday and could not have a birthday party due to social distancing rules. So, families from CTK and beyond organized a parade of vans "complete with honking, banners, cheering, balloons, flowers, and kids excitedly waving from their vehicles." They all stopped across from her home, got out and sang happy birthday.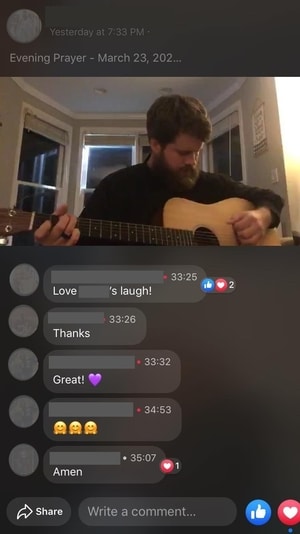 In addition to Sunday services, the church is livestreaming morning, noon, and evening prayer with Rector Fr. Michael Novotny, and Deacon Daniel Logan has used Facebook to livestream evening prayer as well throughout the week. "The setting is intimate," writes Chrissy, "with a candle, an icon, and maybe a rogue child poking their head in now and then. It feels like you are in his home, with him and his family, praying for the needs of the Church and the world."
One parishioner, Sharon Powers, is leading times of peaceful music in the evening through her talent as a harpist, via Facebook Live. "Is there anything more calming and wonderful than a harp at bedtime?" writes Chrissy. You can visit Sharon's Harpstreams page here.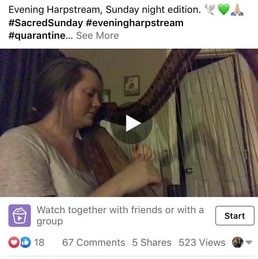 "I've heard many stories of people leaving toilet paper on door steps, delivering groceries to each other, checking in on elderly neighbors who cannot get out to the store, introverts reaching out to extroverts, kids doing video chats with each other, even 'parking lot van-to-van play groups' (where families park a few feet apart, roll down their windows and let the kids talk from van to van). People are doing their best to support local small businesses by ordering take out."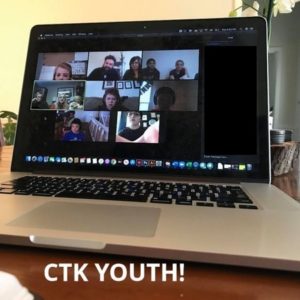 She says some community groups have begun meeting online, and the CTK Youth also had their first meeting via Zoom.
"We are in the midst of a challenging and important time. Thankfully, we have a determined and creative parish who understand the importance of community! During this time of social distancing may we continue to look for ways to serve, while keeping others safe. This is a time of isolation — and isolation can often breed and intensify depression, anxiety, addictions, and other mental health issues."
The church is asking parishioners to commit to pray for the congregation, and also commit to reaching out to each other.