Canon Dan Alger Steps Into a New Assignment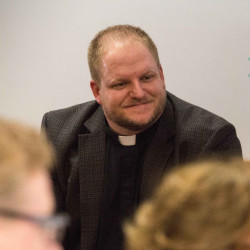 The Rev. Canon Dan Alger has served faithfully and fruitfully as our Canon for Church Planting for the past five years, but is now having to step away from that role in order to answer a call to full time service in the ACNA as Provincial Canon for Church Planting. Dan will continue as Rector at Redeemer, Dacula and will remain a resource, supporter and advocate of church planting in support of our next Canon for Church Planting.
During Dan's time as Canon we planted over ten churches, assisted our partner dioceses in planting three churches, and gained significant ground in the development our church planting support systems. This includes a church planter assessment that has become the gold standard around the province.  Dan also completed his Doctor of Ministry in which he researched our Diocese and developed a long term approach for planting through his doctoral dissertation.  The Bishop is currently working with a candidate to take over the role of Canon for Church Planting, with more information coming soon.
Thank you Canon Dan for you passionate, faithful service and for your continuing legacy of new churches that are faithful to the Gospel in the Anglican way!