Anglicans Serve in Rebuilding Flooded Louisiana
Widespread flooding – in some areas record-setting – has devastated much of southern Louisiana in the last several weeks. The waters having mostly receded, the focus is now on the swift clean-up and restoration of homes and buildings.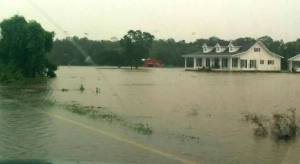 Fr. Peter Johnston, leading new church plant Trinity Anglican in Lafayette, LA a plant of the Diocese of Western Gulf Coast with coaching from ADOTS, has been gutting homes of parishioners and community members, "tearing out and tossing furniture, floors, drywall, insulation – pretty much anything that got wet," before black mold sets in. Fr. Peter's own home remained dry despite a nearby stream that swelled eight feet, blocking the road for two days. He said Lafayette had about 1500 flooded homes and businesses.
---
Modified Morning Prayer for 2016 Flooding, Fr. Peter Johnston
Many waters cannot quench love.
Neither can the floods drown it.
Lord, open our lips.
And our mouth shall proclaim your praise.
---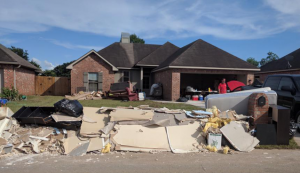 The flooding in Baton Rouge, however, is even more severe. There Fr. Peter helped one of the priests in the Diocese of the Western Gulf Coast (DWGC), whose house has been damaged by around five feet of water. "It was hard to see all of the things that would be lost, including vestments," he said. Photos of Trinity's relief efforts can be seen at their Facebook page.
An eight-person team from Tennessee and Texas spent an extended Labor Day weekend gutting homes outside Baton Rouge, in the areas of Denham Springs and Prairieville. Led by Fr. Terry Sweeney of Sevierville, TN and Dean Tommy Lamb of DWGC, the team removed moldy sheet rock, damaged appliances, household items, and even a king snake from homes of parishioners and their friends in need.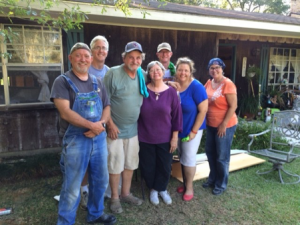 As the team left the area Monday, another flood warning was issued for Baton Rouge. "All were prayerful that no new damage would result from additional rains," said Fr. Terry. He adds that flood victims will need help for several more months.
Fr. Peter says most families have moved into the homes of their extended family or friends, and "the greatest need at this point is simply building supplies and assistance to fund the skilled labor that is required for some parts of the work."
The Anglican Relief and Development Fund is coordinating with Dean Tommy Lamb to provide additional relief to the area.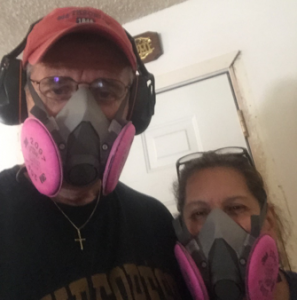 Donations through ARDF will support visiting mission teams helping in relief and clean up efforts, temporary housing for those evacuated, and support for those who are underinsured.
As reported by numerous news organizations, thousands of flood victims were not considered to be in a high-risk flood zone, and were not required to have flood insurance.
How you can help:
Donate your time. Fr. Terry is willing to form another ADOTS response team for those called to serve. Or contact Dean Tommy Lamb by email or phone (281.802.8378).
Pray. From Fr. Peter: "A helpful prayer is that in this circumstance we would find ways to helpfully engage our community, seek their good, and thereby show the love of Jesus."
Donate financially.
Click here for Trinity Anglican's donation site for local flood relief in Lafayette, LA.
Click here to support Louisiana Flood Relief through the Anglican Relief and Development Fund.
Or send a check to:
Anglican Relief & Development Fund
PO Box 645354
Pittsburgh, PA 15264-5354
OR
Bishops Discretionary Fund — Flood Relief
Diocese of Western Gulf Coast
3333 S. Panther Creek Drive
The Woodlands, TX 77381
---
By Rachel Moorman, ADOTS Communications Associate
news@adots.org