Anglicans and Community Collaboration at a Middle School in Chattanooga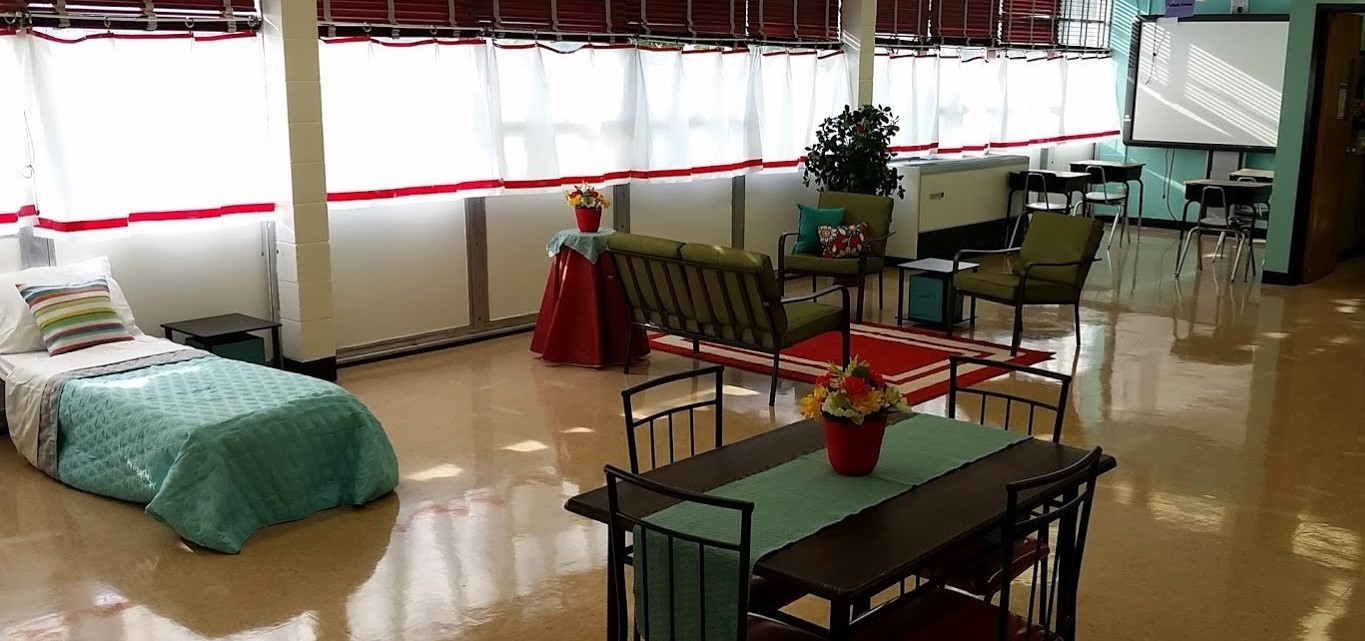 Who doesn't love a great before and after?
Especially when the 'after' represents a partnership between churches, businesses, and community non-profits.
"This is the first time that I'm aware of that we've worked on a practical project together," says Deacon Lauri Moyle of the collaboration between Anglican Church of the Redeemer in Chattanooga – where he serves – and Highland Chapel of The Mission Chattanooga. "It was very much an intentional thing."
This past summer, Redeemer and Highland Chapel transformed the special education and home economics classrooms of nearby Orchard Knob Middle School, as part of a larger school improvement project organized by a local foundation. The teacher requested a "loft apartment" feel to the home-ec portion of the room.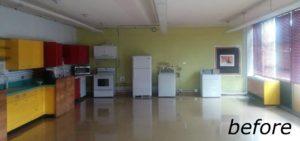 "It was pretty run down," says Deacon Lauri. "I knew somebody in our congregation who has a degree in theater set design, so I knew she would be up for a creative project. She just went at it and created a diagram schematic, color patterns, and so on."
Volunteers from the two churches provided the labor, paint, and some other equipment and materials, and in a week's time had created a brand-new space to help students learn how to take care of themselves and a home… the positive feedback from the teacher including that the project has improved the students' behavior.
But the bigger picture is how this opportunity came about, and the dozens of other groups involved in revamping many areas of the school.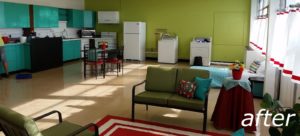 Deacon Lauri serves as a Community Chaplain through a grant from the Matthew 25 Initiative of the ACNA. Because this allows him to continually connect with organizations throughout the city, he was invited by a local foundation on an out-of-town trip to explore addressing racial inequality… and as the saying goes, one thing led to another. Soon Deacon Lauri and others from that trip were gathered at Orchard Knob Middle School for a separate conversation about mentoring boys in the community, where the director of the secular Footprint Foundation noticed the tired atmosphere of the school.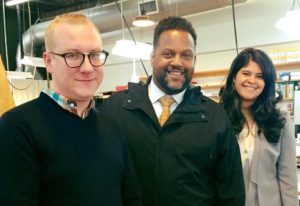 A couple of weeks later, the foundation director had worked with the school to organize 40 groups – ranging from small businesses and non-profits to large corporations – to breathe new life into classrooms, outdoor spaces, hallways, the library, and cafeteria. The collaboration with Redeemer and Highland Chapel volunteers included the University of Tennessee Chattanooga football team helping paint the rooms, and middle schoolers from an out-of-state Baptist summer camp helping sand down surfaces. The foundation paid for the home-ec room's new furniture.
"It's a very practical gift that I think shows Jesus' love for the community, and it was definitely known to everybody involved that we're two congregations, two churches trying to help with this," says Deacon Lauri. "It showed the director of the foundation that here's a church that's willing to show the love of Jesus through practical help."
Stemming from his experience as a Community Chaplain, Deacon Lauri has encouragement for churches about starting and maintaining community relationships that lead to the practical support of our neighborhoods: It begins with an attitude of learning.
"Not assuming that you know what the needs are, but asking questions, and trying to figure out what mediating institutions exist that can help educate you on those needs," says Deacon Lauri, "And really find folks that are knowledgeable and have been doing this work for a long time."
He also adds that churches should be aware of their limitations, and work within them.
"Use the resources that you have at your disposal and figure out where you fit in where you're not creating an extra layer – finding the need and then trying to fulfill the need within the means of what you can offer," he says. "Don't overcommit. Follow through, and then be intentional about keeping those relationships going."
Redeemer has many outreach ministries, including food distribution to the needy, backpacks of school supplies for children… but this is perhaps the first time they had partnered practically with another Anglican church.
"Our congregations differ primarily in age and also in church liturgical practices – our expression is a little more traditional. But we definitely fellowship with the other pastors from the network, and our increased desire is for our congregations to get to know each other a little bit," says Deacon Lauri.
"In the future, I'm definitely hopeful that we can work together on something like this, we just need to be intentional about it. I think the desire is there."
---