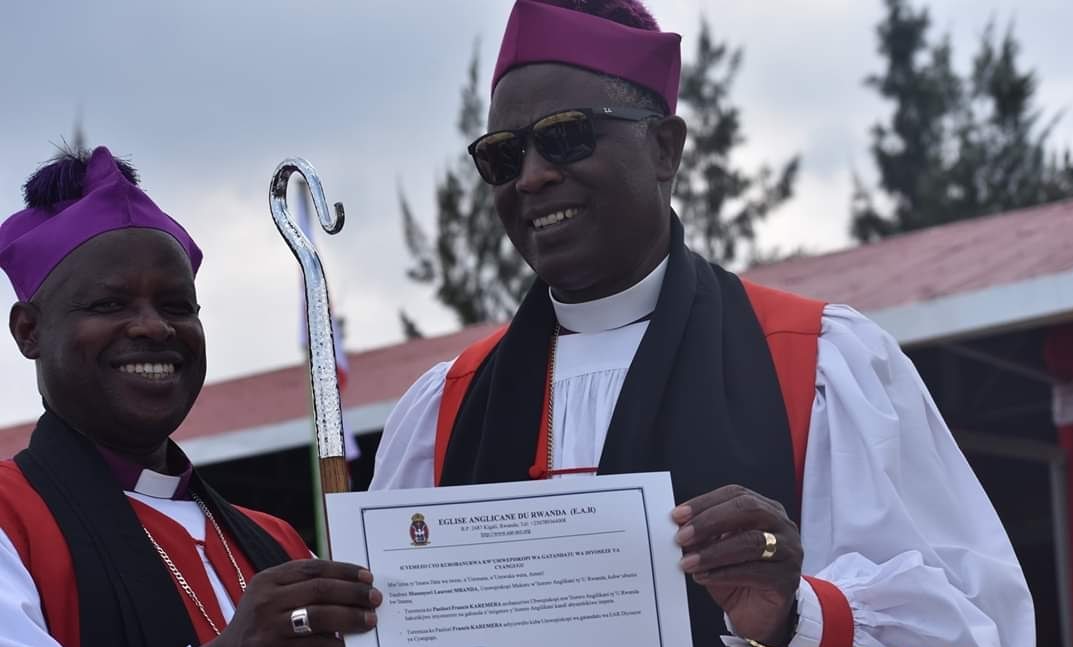 Bishop Francis Karemera upon his enthronement, with Archbishop Laurent Mbanda, Rwanda
"What a joy it was to be back in Rwanda after 10 long years! It is said to be one of the safest countries in Africa… the GAFCON Bishops meeting will be held there June 2020," says Rev. Deacon Sandi Harding, who serves at Resurrection Anglican Church in Woodstock, GA.
Dcn. Sandi visited as a friend and representative of the Diocese of the South and its Bishops to celebrate the consecration of Rev. Francis Karemera as Bishop of the Cyangugu Diocese, which took place on September 15. Dcn. Sandi worked closely with Bishop Francis during her time there as a missionary training churches in HIV/AIDS education, which covered all of Rwanda.
"My greatest culture shock was the capital of Kigali which has become a bustling city filled with traffic jams, large hotels, a new basketball arena, a Convention Center, and shopping malls and lots of new housing," says Dcn. Sandi. "Traveling to Cyangugu diocese, where now Bishop Francis Karemera was being enthroned, was more the Rwanda I remembered. The enthronement, held in a soccer stadium on a breezy Sunday morning, lasted over 4 hours with around 700 in attendance."
She continues, "Of the 11 bishops in Rwanda, 7 were pastors that I had worked [with] and lived near. I felt like a proud mama seeing them sharing in the celebration of this fellow brother in Christ. Lots of hugs and tears of happiness… Rwanda still has my heart! Thank you for your support for my ability to represent ADOTS at this great celebration."