Workshops this Saturday! Mission Matters Conference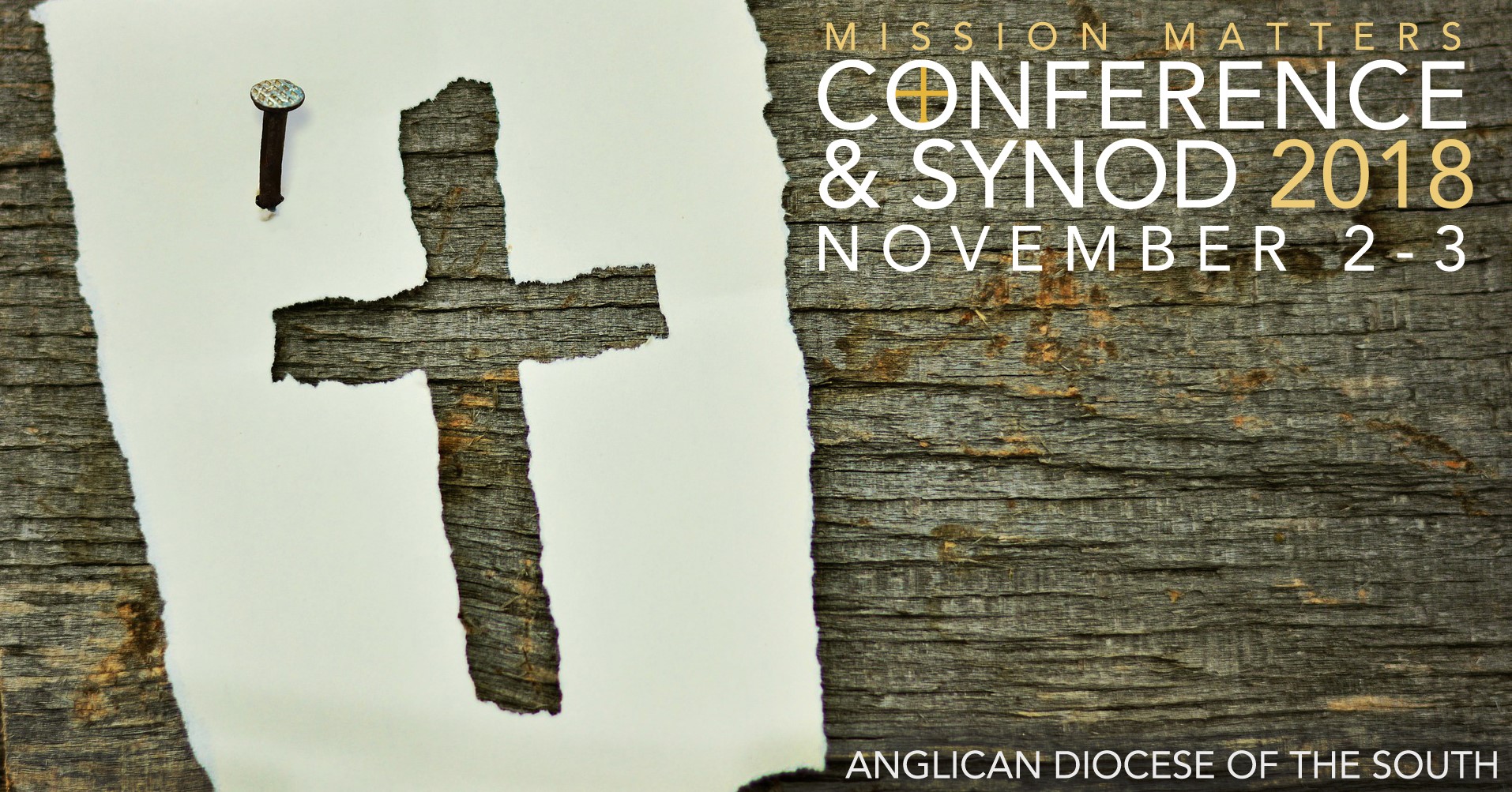 Conference starts Friday! Workshops on Saturday. Registration Required.
ADOTS is excited once again to offer a wide array of informative workshops at this year's Mission Matters Conference & Synod – stemming from the diverse passions and experiences of our clergy and lay leaders in the diocese.
Liturgy and Worship: How to Explain Our Worship to Newcomers
Presented by Canon Greg Goebel
Drawing on over 15 years of experience explaining Anglican worship to newbies, Canon Greg will share what he's learned about how to explain why we do what we do. You will be better informed about how to explain Anglican worship to newcomers, young people, and friends from other traditions… and even to some of the regulars!
Canon Greg is the founder of AnglicanPastor.com, a website designed to share the Anglican perspective on worship, faith, and life. He serves as our Canon to the Ordinary, and was a Rector, Parish Administrator, and an Associate Pastor.
Lectio Divina
Presented by Rev. Leonard Vaughn and Sister Katherine Mary Martin
Lectio Divina is scriptural reading, meditation, and prayer intended to promote communion with God and to increase the knowledge of God's word. It does not treat scripture as texts to be studied, but as the living word.
Fr. Leonard Vaughn is Rector of Holy Trinity, Flower Branch, GA. Sister Katherine Mary Martin, O.S.B. is the founder and director of the Peace House, Auburn, AL. 
 Parish Finances
Presented by Chuck Lewis, Treasurer of ADOTS
Often, a church's vestry will elect a treasurer with an accounting background but without church financial records experience. Or, a new bookkeeper may be hired who has no experience with church financial record-keeping. This workshop will discuss the ADOTS Parish Finances Manual, which is designed to assist these persons to understand the differences between business and church accounting and record-keeping. The manual is designed to help treasurers and bookkeepers understand what fund accounting is and why it is important – and to help them understand some specific requirements for nonprofit organizations which, in some cases, may be very different from what is learned in an accounting class or in on-the-job training in a for-profit business situation.
Church Planting
Presented by Canon Dan Alger and Canon Chris Sorensen
Join Canon Dan Alger and Canon Chris Sorensen as they explore Church Planting, and get to know planters and those interested in supporting planting.
Dan Alger served as the first Canon for Church Planting for ADOTS, and Chris Sorensen will move into that role in 2019.
Ministry to Immigrants and Refugees
Presented by Rev. Rusty DeMoss
This workshop addresses how our churches in ADOTS can, and do, minister to "the sojourner among us." We will also explore how ADOTS is connected to ACNA's wider immigration ministry through the Anglican Immigrant Initiative and The Immigration Alliance.
The Rev. Rusty DeMoss is a priest canonically resident in ADOTS, and is also a practicing immigration attorney. He is Board Certified in Immigration and Nationality Law by the Florida Bar and assists at Christ Church, Atlanta.
Singing and Making Melody to the Lord with Your Heart:
Chanting in Personal and Corporate Worship
Presented by Dr. Enoch S.A. Jacobus
This hands-on workshop aims to equip individuals and congregations with the skills to chant the psalms and canticles in the Daily Office, as well as the ordinary of Holy Eucharist. We will familiarize ourselves with the value, anatomy, and proper practice of chanting the psalms.
Dr. Enoch S.A. Jacobus is the Assistant Professor of Music Theory at Shorter University, where he teaches courses in music analysis, aural skills, composition, and orchestration.
Wisdom and Stature: Toward a Foundational Education for Young Christians
Presented by Will Harper and Ben Woodward
Join leaders from across the diocese to explore Christian education and development of today's Anglican youth. Featuring an exposition of the curriculum implemented at St. Andrew's Church in Rome, GA (including works by Justo Gonzalez, C.S. Lewis, J.I. Packer, G.K. Chesterton, and more), this workshop will utilize interactive methods to equip you to define the unique educational priorities of your parish's young people.
William Harper majored in philosophy as an undergraduate at Berry College before obtaining a law degree at the University of the Pacific. First introduced to the Anglican tradition in North Carolina in 2014, Ben Woodward now works and worships in his hometown of Rome, GA.
Youth Ministry
Presented by Jessica Greiner, ADOTS Coordinator for Youth Ministry
Whether or not you have an established youth ministry, or would like to start one, you need support and help from a network of others with the same ministry calling. Join ADOTS Youth Ministry Coordinator Jessica Greiner for some time of networking and learning together.
Introducing Liturgy to Children through Catechesis of the Good Shepherd
Presented by Victoria Schwartz
The Catechesis of the Good Shepherd method – unlike most children's formation – teaches the unity of the Bible and liturgy and offers specific instruction in liturgy. We will explore the materials used to introduce children to our Anglican liturgy.
Victoria Schwartz has worked in the Catechesis of the Good Shepherd for over 25 years, teaching children and assisting churches in starting this method of formation.
Young Adults and Liturgy
Presented by Rev. Dr. Winfield Bevins
Why are young adults increasingly drawn to historic forms of worship? Dr. Winfield Bevins, an Anglican priest, church planter, teacher, and Director of the Anglican house at Asbury Theological Seminary, has spent the past two years asking that question of young adults. After his plenary session, he will conduct a workshop to look more closely at how we can connect with young adults as Anglicans.
The Rev. Dr. Winfield Bevins is the Director of Church Planting at Asbury Theological Seminary in Wilmore, KY. He also directs Asbury's Anglican Formation program. He is the author of several books including his forthcoming book "Ever Ancient Ever New: The Allure of Liturgy for a New Generation."
Understanding Church Websites and Digital Marketing
Presented by Rev. Allen Willis
This workshop is a guide to taking control of your parish's digital presence and maintaining your appearance on the web. Topics will include building and maintaining a site utilizing a content management system, assessing your appearance on Google, and leveraging your digital property to expand your reach.
The Rev. Allen Willis is the rector of St. Michael's Anglican Church in Gallatin, TN, the Director of Web Design and Digital Marketing at Atiba Software in Nashville, TN, and the founder of AnglicanWebsites.com.
Ministry of the Verger
Presented by Brandon Wycoff, ACNA Guild of Vergers

This workshop will provide an overview of verger history and its role in the modern church, with discussion on development of – and the need for – verger ministries in existing and new churches.
Brandon Wycoff is President of the ACNA Guild of Vergers, and serves as verger for the ACNA Cathedral – Holy Cross Cathedral, Loganville, GA.
Prayer Ministry
Presented by Ty Bragg
Prayer Ministry should be at the center of every parish. How can you sustain yours… or start one?
Ty Bragg is a lay leader at Trinity, Douglassville, GA, and serves as a member of our Standing Committee. He is also the leader of the intercessors of ADOTS.  
 Mental Health in the Church
Presented by Emily King
In this workshop, we will look at creating an emotionally and mentally healthy environment for people in the church: social media's impact on the parish, the greater community of which the church is a part, as well as understanding anxiety (and other diagnoses) in a group, and how to be welcoming and gracious.
Emily King is a licensed Marriage and Family Therapist in Knoxville, TN, and is married to Jack King, rector of Apostles Anglican Church.
Church Communications
Presented by Rev. Daniel Adkinson
How can social media help your church fulfill its mission? This workshop will focus on some of the best ways to reach people with the message of the Gospel – and of our local churches – on Twitter, Facebook, or Instagram.
Fr. Daniel Adkinson is the planter and Rector of St. Thomas, Athens, GA.
Mission Trips
Presented by Rev. Chris Findley
Mission trips change lives! Discussion will include the best ways to plan and complete short-term mission trips in ways that bless people where we go, and help us grow in Christ.
Fr. Chris Findley is the Associate Rector of St. Patrick's, Murfreesboro, TN.
---