The Rector and the Vestry in the Time of Pandemic: A Resource
By Canon Greg Goebel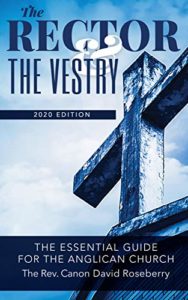 In a time of pandemic, one of the most important areas of ministry is leadership. We have to be ready to make wise, faithful decisions together, and to know who is responsible for what.
So what are the roles and responsibilities of the Rector and the Vestry? How do they make decisions together? Who does what?
Until recently, I have not had a short book to recommend that overviews Anglican church leadership. But now I do.
Canon David Roseberry has written a short book called The Rector and the Vestry that every Rector and every Vestry member should read. This little book gives us the ability to get all new vestry members trained. It outlines the various responsibilities of Rector and Vestry, and maps out a great vision for cooperative ministry. And it is distinctly Anglican.
David does a great job of avoiding the various differences in some of our practices and approaches, while still teaching the basic core. This book would work for every church.
I recommend this book without reservation for every church, and every church leader. It is the book for vestry orientation, and for mapping out a process, and building a culture, of wise stewardship in our mission.
It is available now at Amazon in print and kindle.
---