[ezcol_1third]
Guest Speaker
Bishop Eric Menees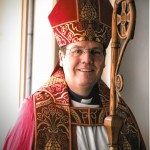 The Rt. Rev. Dr. Eric Vawter Menees was consecrated as the Fifth Bishop of the Anglican Diocese of San Joaquin on September 24, 2011.
Bishop Menees graduated from General Theological Seminary in 1987, and he received his Doctor of Ministry from Seabury Western in 2006. He was ordained in the Episcopal Diocese of Los Angeles, and subsequently served as the Deacon/Priest in Charge of the Church of Epiphany, and as the Associate Rector of the Church of the Messiah, both of which were Spanish language ministries. Bishop Menees served as the Chaplain to the Bishop's School in La Jolla prior to becoming the Rector of Grace Episcopal Church in San Marcos, CA.
For reasons of conscience, Bishop Menees left Grace Episcopal in 2006 and founded the Anglican Church of the Resurrection, also in San Marcos, CA..
The Rt. Rev. Dr. Menees is a vowed Third Order Franciscan. He is married to Florence Guadalupe Mira-Menees and has a daughter, Milagro, and a son, Sebastian.
[/ezcol_1third]
[ezcol_1third]
Location
Shocco Springs Retreat Center,
Shocco Springs, Alabama
Schedule
Tuesday, February 16th
2:30-5:00 pm
Check-in and Fellowship
5:00-6:00 pm
Dinner
6:00-6:45 pm
Evening Prayer
6:45-8:30 pm
Meeting with Archbishop Beach, Bishop Lyons and Bishop Menees
8:30-9:00 pm
Compline
Wednesday, February 17th
7:30-8:00 am
Morning Prayer
8:00-8:45 am
Breakfast
8:45-9:00 am
Gathering
9:00-10:00 am
Teaching by Bishop Menees
10:00-11:00 am
Small group discussion
11:00-11:45 am
Discussion and summation of teaching
11:45-1:00 pm
Lunch
1:00-5:00 pm
Time for reflection and fellowship
5:00-6:00 pm
Dinner
6:00-6:45 pm
Evening Prayer
6:45-7:00 pm
Gathering
7:00-8:00 pm
Teaching by Bishop Menees
8:00-8:45 pm
Small group discussion
8:45-9:15 pm
Discussion and summation of teaching
9:15-9:45 pm
Compline
Thursday, June 18th
7:30-8:00 am
Morning Prayer
8:00-8:45 am
Breakfast
8:45-9:00 am
Gathering
9:00-10:00 am
Scriptural teaching by Bishop Frank Lyons
10:00-11:00 am
Quiet and Reflection in preparation for renewal of vows
11:00-12:00 am
Closing Holy Communion with Renewal of Clergy Vows
11:45-1:00 pm
Lunch
1:00pm
Departure
[/ezcol_1third]
[ezcol_1third_end]
Registration Form
(form 'form-15' not found)
[/ezcol_1third_end]