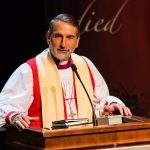 ADOTS members attend the New Wineskins Conference. More than a dozen ADOTS clergy and lay members attended the New Wineskins Mission Conference in April.
Anglican missionaries and speakers from around the world come  to New Wineskins every three years to inspire and equip churches and individuals to fulfill our Lord's Great Commission to make disciples of all nations.
What they Said about New Wineskins and Global Mission:
"I was amazed at how broad our Anglican influence for the Gospel in the world is. What a wonderful time of connecting with God's choicest servants through New Wine Skins." – ADOTS Canon Missioner George Ivey 
"The church is growing throughout the world, while the North American Church is just keeping even. The Global church has more than doubled since 1970. Christians in China now outnumber the Communists! There are 10,000 public baptisms/day in India! It is the 'zeal of the Lord Almighty" that accomplishes this (not us!)" – Deacon Sandi Harding, Resurrection Woodstock, Georgia
"I had never heard of New Wineskins before I became chair of the missions committee. I also did not know it was affiliated with ACNA. The event for me was like drinking water from a fire hose.  A lot to take in. Got help with workshops related to missions, very insightful and helpful as I take on this new responsibility." – Ann Franks, Mission Team Leader, Holy Cross Cathedral, Loganville, Georgia
Find out more about Anglicans and Global Mission at New Wineskins online.  Also check out Anglican Mission Partners.