Five Words from the Lord: Archbishop Foley's Synod Evening Prayer Address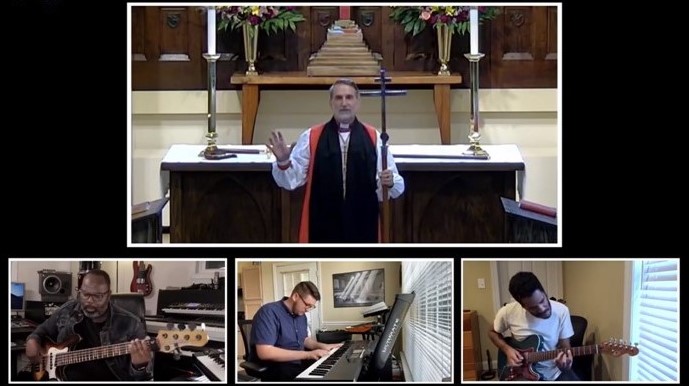 "As we gather together in this online service to praise the Lord and worship him, on this the 10th anniversary of our Diocese, it's clear that the world is not the same place as we were ten years ago."
Archbishop Foley Beach welcomed laity and clergy as we joined in Evening Prayer of Synod 2020 last Friday night via a streamed service on Facebook Live, necessary because of the continuing COVID-19 pandemic. The service was an uplifting and inspiring collaboration of musicians, clergy, children, and lay members from around the Diocese of the South – with music led by MissionSong of Mission Chattanooga. If you missed it, you can view the Evening Prayer service here on the ADOTS Facebook page, and we highly recommend you do!
In his evening address, Archbishop Foley acknowledged the uncertain world we live in, amid political strife, a worldwide pandemic, and violence in our cities and communities.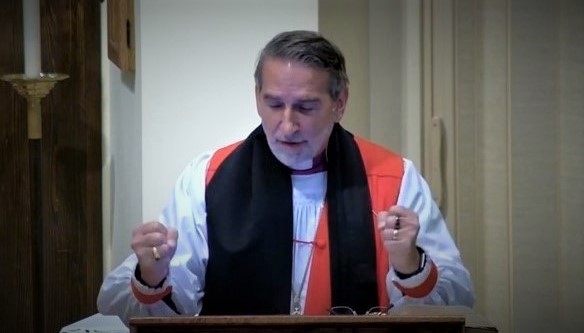 "In the past six months, we've seen a renewed call for justice and racial equality in our nation and in our communities, awakening the consciences of many," he said. "Things are not the same as they were ten years ago when we started. And for most people the elections, the pandemic, the violence, the racial strife, have all created a sense of confusion, chaos, pressure, stress, anxiety, and fear. Is there a word of the Lord that He might have for us tonight? Is there something He might want to say to you? I think there is."
From the evening's text, Haggai chapter 2, we considered what that period of life was like for the Israelites: Having been exiled and their temple destroyed, some who were exiled have been allowed to return home and start reconstruction of the temple. Verse three asks, "Who is left among you who saw this house in its former glory?"
"With all that's going around us, I'm sure many of us could be asking similar questions about our nation, our community, our church, maybe your home, maybe your family," said Archbishop Foley.
The Archbishop gives us five words from Haggai 2 that the Lord gave to His people then, who were working to rebuild their church and their nation. "And I think these can be very useful for you and me," he said.
#1.  Be Strong. verse 4
"The job is not easy, the situation you are in is difficult," said Archbishop Foley. He recalled the Apostle Paul's words in Ephesians 6:10 about putting on the full armor of God: 'Be strong in the Lord and in the strength of his might.'"

#2.  Work. verse 4
"The Lord is saying to these people: Do what I've asked you to do. What is the work the Lord has called you to do? What about our actions? In this time in which we live, what if we focused on the work of being Christian? What happened to living like Jesus did? Let's be peacemakers! Love your neighbor as yourself. Do unto others as you would have them do unto you. We want to see a spiritual awakening in our lands, and in our homes, and in our communities, do we not? This isn't going to happen until the people of God live as the people of God, doing what Jesus asked us to do."
#3.  I Am With You. verses 4-5
"'My spirit is in your midst.' As the people of God went about doing the work of God, He tells them He will be with them. And God promises to be with you and to be with me. He's here, all the time – in whatever we are facing, the good and the bad, it's just a matter of us acknowledging him being here."
#4.  Fear Not. verse 5
"It's difficult not to live in fear. If you and I live in a spirit of fear, all the time, it will begin to affect us physically and emotionally in ways that are not good. It can hinder your ability to walk in the Spirit and in the power of his might. The emotion of fear enables us to respond to a perceived danger, and everything in us reacts so that we will respond – to live there constantly is debilitating. One of the phrases Jesus used most was, 'Fear not.'"
#5.  I Will Give Peace. verse 9
"This is where all of us should want to be living, moment by moment. In the place of his peace, his shalom. That tangible place of calm, assurance, blessing, trusting that inner stillness. In John 16:33, Jesus said this, 'These things I have spoken to you, that in me you may have peace.'"
"Whatever it is you are facing… remember these five words," said Archbishop Foley. "This is so reminiscent of what the Lord told Joshua hundreds of years before this time… 'The Lord your God is with you wherever you go.'"
View the Evening Prayer service and Archbishop Foley's message in full here on the ADOTS Facebook page!
Special thanks to Canon Greg Goebel, Canon Chris Sorensen, and Jason Foster for their great work in putting the service together — Archbishop Foley remarked, "How refreshing and encouraging that service was!"