Body Trouble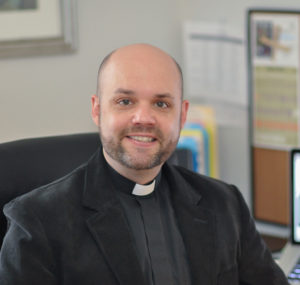 by Canon Greg Goebel
After Jesus rose from the dead he appeared to Mary Magdalene and the Apostles, and over 500 others. He made a point to show them that he was indeed there in body. Paul tells us that he rose again physically, and if not our hope is in vain. He ascended, and is alive today in bodily form. We will also rise, as he did, to new bodies.
But wait a minute. Why would he do that? Why would anyone want to live in a body eternally?
We have a hard time with that nowadays because we have body trouble. Look at the TV Guide: "Biggest Loser" is a popular show. Addictions to drugs, alcohol and sex are rampant and destructive. All of us have been touched by obesity or addiction, whether personally or with close family and friends. We have body trouble, we want spirit but not body. So with all this body trouble, why would Jesus want to resurrect us to be like him – in a new physical body? Aren't bodies the problem?
We often think that physicality or physical life is the problem. Liberal theologians say that Jesus "rose in our hearts" and not in body.
But evangelicals often talk about "going to heaven when I die" without even mentioning our resurrected bodies. Or we think of "avoiding the flesh" as if the "flesh" is our physical body itself, rather than our fallen nature within our body. In reality, much of this thinking comes from an early heresy called Gnosticism, rather than from Jesus or St. Paul.
We do have body trouble, but the problem is not having bodies. The problem is being sick in body, mind and spirit. Sin nature has corrupted our bodies, our minds, and our souls and needs healing through Jesus Christ.
Our bodies, and the physical world, were created good, but are fallen. To redeem them, God will make new bodies, and a new earth. We will eat, we will drink, we will walk around.
Our salvation is total: body, mind, and spirit. That is why we eat the holy meal together today: Eucharist.
That is why we receive the waters of baptism, and share visible fellowship with Body of Christ. These are ways we "taste and see that the Lord is good." The physical matters.
Re-orienting our theological imagination this way has been the life goal of New Testament scholar-Bishop N.T. Wright. I've read his writings, and on this point they are persuasive, pastoral, and faithful to Scripture.
But also as a pastor, I've personally seen the fallout from a "gnostic" anti- physical mindset among parishioners. I've seen people literally hate their own bodies. And I've seen the healing that comes from an encounter with this Gospel truth.
Let me share with you how one young parishioner described her experience:
I went through this journey last year. While studying Flannery O'Connor for my Humanities Seminar, I came across a book by Ralph Wood called Flannery O'Connor and the Christ-Haunted South. In his analysis of her writings, Wood showed her earthy, sacramental theology, and demonstrated how that combats the dualism of the modern age.
While reading this book one day, I was moved to tears. The physical–my body, nature, other bodies, art, emotions, etc- -was important because God said so during Creation.
The nihilism of the age that divorces faith and reason, spirit and flesh, cripples us spiritually. A blackened shell cracked around my soul and I felt a depression that had invaded my soul for years begin to fade.
These things aren't merely theoretical doctrines to get corrected. This is the Gospel applied to heal our lives. It can heal your life too.
So this Easter as you go to the empty tomb, have breakfast on the beach with Jesus, and walk the Emmaus Road, let the Gospel renew your spiritual imagination in the truth.
Here is a great way to start: This Easter, drink a glass of your favorite beverage. Walk in the park. Plant a tree. Laugh. Sing. Eat a joyful meal. Enjoy the physical creation with abandon. Sense God's presence in these bodies, and on this good earth. Enjoy people, enjoy yourself.
We still have sin and suffering. Yet even now we can encounter God's goodness in his creation, including in you and me.
In his Easter Homily, John Chrysostom said it best:
Are there any who are devout lovers of God? Let them enjoy this beautiful bright festival!
Are there any who are grateful servants? Let them rejoice and enter into the joy of their Lord!
Are there any weary from fasting? Let them now receive their due!
The Lord gives rest to those who come at the eleventh hour, even as to those who toiled from the beginning. To one and all the Lord gives generously.
So Let us all enjoy the Feast – this Easter feast, and the feast of Jesus Christ.
And then, as this Resurrection life fills our bodies and souls, let us share this feast with those around us, by providing food, shelter, encouragement to those in need.And in all of this as we share the Gospel, we share it as salvation and healing for all things: body, mind, and spirit.
Alleluia! Christ is Risen!
Canon Greg Goebel serves as Canon to the Ordinary at ADOTS and writes at anglicanpastor.com