Bishop Frank Lyons, Assisting Bishop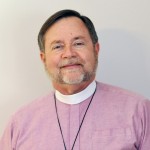 Bishop Frank assists Archbishop Foley in providing episcopal pastoral care and leadership including confirmations and ordinations, and leading the deans, along with other areas of leadership and care.
The Rt. Rev. Dr. Frank Lyons is a graduate of Wheaton College and holds four graduate degrees from Wheaton Graduate School, Nashotah Theological Seminary, Fuller Theological Seminary, and Carey Theological College. He and his wife served as overseas missionaries with Society of Anglican Missionaries and Senders (SAMS) for 25 years. He began serving here in January 2015.