A Witness for Christ: GAFCON Youth Delegate Ethan Bryan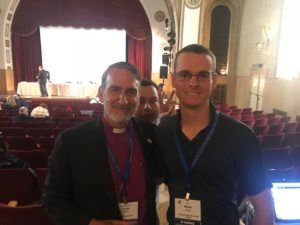 Last month, ADOTS sent bishops and delegates to GAFCON in Jerusalem. Among our number was Youth Delegate Ethan Bryan of Holy Cross Cathedral. Canon Greg had a chance to sit down with Ethan in Jerusalem and hear his story, and his sense of our Anglican moment.  Ethan is a twenty one year old college student at Georgia State University. 
Ethan came to Holy Cross when he was about eight years old. It was a tough time in his family life, and he was at a turning point of faith. His mom brought him to Holy Cross, and although she found another church home, Ethan has been at Holy Cross ever since.
"I became self-aware about my faith for the first time at Holy Cross. I knew that I knew Jesus. This church and its pastors have helped me, and now I serve the youth ministry to give back what I've been given. I want to be a witness to the students, and it keeps me grounded."
Ethan also serves in the ROTC.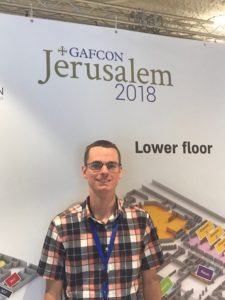 "ROTC allows me to be a witness for Christ in a different setting. I'm planning on joining the Air Force after I finish studying at GSU. I don't feel called to ordained ministry at this time, but I feel God's calling on my life to be a witness in the Air Force."
Ethan learned about GAFCON by attending GAFCON. He wasn't aware of much that was going on in the Anglican world, but after hearing testimonies this week, he says he felt humbled.
"I'm humbled to be part of the Anglican church. So many people around the world are just trying to be biblical Christians. My prayer group here includes people from Australia, Uganda, and Nigeria. I can barely pronounce their names, but we are praying together as brothers and sisters in Christ. That's what GAFCON is all about."
"I've heard stories of persecution here too. When we preach the true gospel, the reality of the world is that we may suffer, in different ways. But I would rather tell the true gospel and not be afraid. As a youth leader, this is what I want the parents and students to hear."
Ethan summarized his week in Jerusalem as "impactful" and says he has a new conviction to serve students back home, and to be a witness for Christ.
After listening to Ethan share his story and his experience at GAFCON, I can't help but rejoice that our local churches are sharing the gospel, and raising up young people to serve. And Ethan's experience of a global yet relational fellowship that is on mission for the gospel inspires me too. We have a great cloud of witnesses around us, and a great company of believers who are on mission with us.
---